BREAKING | Winners Announced at Fritz Kreisler International Violin Competition
17-year-old Guido Felipe Sant'Anna e Silva was awarded 1st Prize at the 2022 Fritz Kreisler International Violin Competition
Culminating in an award ceremony on September 25 at the Musikverein in Vienna, the Fritz Kreisler International Violin Competition announced its 10th edition winners.
In the finals, the competitors performed as soloists with ORF Radio Symphony Orchestra Vienna, led by Alexander Joel. They performed a violin concerto of the performer's choice, with Kreisler's cadenzas.
For the first time in the history of the competition, two second prizes ex-aequo were given, and no third prize. The 2022 winners are:
1st Prize: Guido Sant'Anna e Silva – 17, Brazil
2nd Prize ex-aequo: Michael Shaham – 19, Israel and Rino Yoshimoto – 19, Japan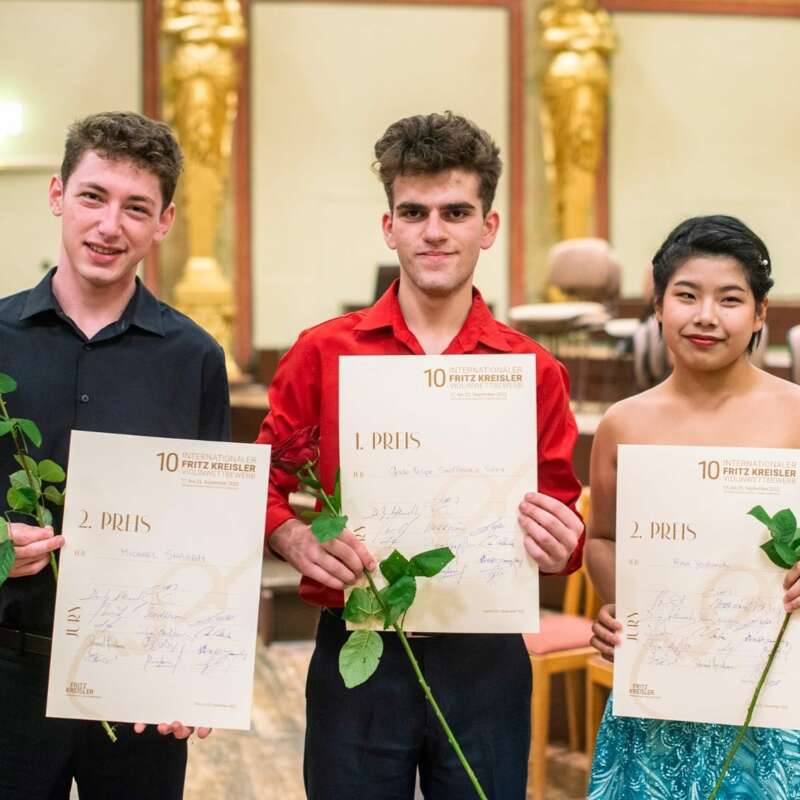 4th Prize: Raphael Nussbaumer – 16, Switzerland
5th Prize: Amira Abouzahra – 16, Germany
6th Prize: Elli Choi – 21, USA
Open to violinists born after September 25, 1991, who are determined to pursue an international career, all rounds of the competition were streamed on The Violin Channel. Tune in here.
As the first prize winner, Guido Sant'Anna will receive 20,000 Euro and multiple concert engagements: the National Philharmonic Society of Lithuania offers a concert with one of its main orchestras, the Lithuanian National Symphony Orchestra and Lithuanian Chamber Orchestra; the Nizhny Novgorod State Philharmonic Society will host the winner of the competition during the season 2023/2024; the Orchestra Sinfonica Siciliana offers two concerts to the winner in Palermo, Italy, at the Teatro Politeama; the World Culture Networks (WCN) offers a tour in Asia in May 2023.
Additionally, Guido will have the opportunity to record a CD with NAXOS and in case of demonstrating extraordinary artistic ability, he will receive a concert debut with the Vienna Philharmonic Orchestra.
Prize money of 15,000, 10,000, 7,000, 6,000, 5,000 will go to second through sixth place respectively.
The three best participants who did not get through to the Final, Seina Matsuoka, Daniel Kogan, and Leonid Zhelezny, will receive an encouragement award of 2,500 €.
Plus, €1,500 will be given to the three best participants who did not get through to the Semi-Final: Zalatel Černoš Rok, Kingston Ho, and Julian Walder.
Headed by Chair of the Jury, Jean Jacques Kantorow, the Jury of the final stages in 2022 included violinists Igor Gruppman, Fanny Clamagirand, Mario Hossen, Sergey Khachatryan, Ernst Kovacic, Sergej Krylov, Benjamin Schmid, Dmitry Sitkovetsky, Ingolf Turban, and Tianwa Yang.
In addition, only for the Gala Final, six representatives of the classical music world joined the main Jury: Matthias Naske, Prof. Daniel Froschauer, GertKorentschnig, Mark Stephan Buhl, Albena Danailowa, and Ippolitov-Ivanov-Valerij Vorona.
Guido Sant'Anna began studying violin at age 5 with Marcia Uhlemann. At 7 years old, Guido's talent was discovered by conductor Julio Medaglia, and in 2013, he started studying with Elisa Fukuda.
He was the first Brazilian/South American to be selected to participate in the Menuhin Competition in Geneva, Switzerland, receiving 6th prize, the Audience Award, and the Chamber Music Award. Guido was also a participant at The Perlman Music Program.