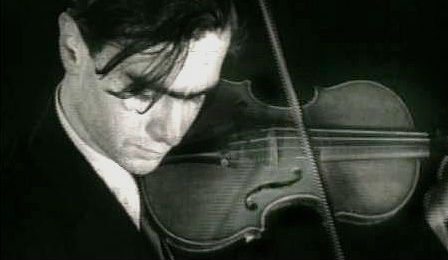 Bulgarian violin virtuoso Vasco Abadjiev was born on this day in 1926 - 90 years ago.
A recognised child prodigy, he made his international debut aged 6 – and at just 12 years old was awarded 1st prize at the Liege International Violin Competition.
Specialising in the virtuosic repertoire of Niccolo Paganini, Abadjiev graduated from the Brussels Conservatoire aged 13, with the highest distinction - and commenced a brilliant yet interrupted international concert career.
Plagued by the war years and the death of his beloved mother in 1965, much like contemporary Christian Ferras, his adult life tragically spiralled into sadness, alcoholism, financial struggle and deep depression.
Vasco Abadjiev sadly took his own life in 1978 – aged just 51, yet fortunately bequeathed the world a brilliant and treasured recording legacy.
[video_lightbox_youtube video_id="zLMcD2w5sfw" width="590" height="385" auto_thumb="1" ]
VASCO ABADJIEV | SARASATE | INTRODUCTION AND TARANTELLA | 1952
[video_lightbox_youtube video_id="W0NDkyJOQkA" width="590" height="385" auto_thumb="1" ]
VASCO ABADJIEV | PAGANINI | VIOLIN CONCERTO NO. 1 | VASIL STEFANOV | SOFIA PHILHARMONIC | 1952
[video_lightbox_youtube video_id="VQP8ys-76kM" width="590" height="385" auto_thumb="1" ]
VASCO ABADJIEV | PAGANINI | VARIATIONS ON 'I-PALPITI' | 1954