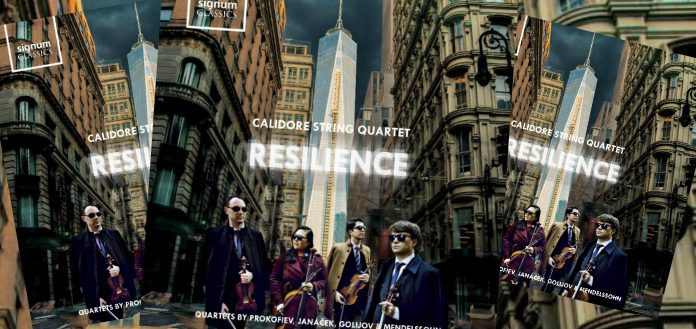 Signum Records has this month announced the release of VC Artists Calidore String Quartet's debut album: Resilience.
The disc features Prokofiev's String Quartet No. 2, Janáček's String Quartet No. 1, Oswaldo Golijov's Tenebrae – and Mendelssohn's String Quartet No. 6.
"The genesis for our album 'Resilience' was conceived during the tumultuous period leading up to and following the US presidential election of Fall 2016 …" violinist Ryan Meehan has told The Violin Channel.
"Many millions across the world marched for a cause to address the divided nature of our society … these demonstrations led our quartet to wonder about our purpose as musicians during this time of social upheaval … we settled on the idea that we wanted to offer a message of strength and hope for our audiences across the globe … furthermore, we wanted to demonstrate through our music that the power to be resilient is inside each of us …" he has said.
"With this in mind we began to explore the quartet canon to extract stories of composers who endeavored to create great art despite tremendous internal or external conflict …  the result is a collection of four personal narratives as told through the medium of the string quartet by Prokofiev, Golijov, Janáček, and Mendelssohn … these pieces depict an escape from the Nazi eastern offensive in WWII, a life caught in the crosshairs of violence in the Middle East, the struggle of a man trapped in a loveless marriage and a heartbroken brother reeling after his sister's premature death."
Comments
comments