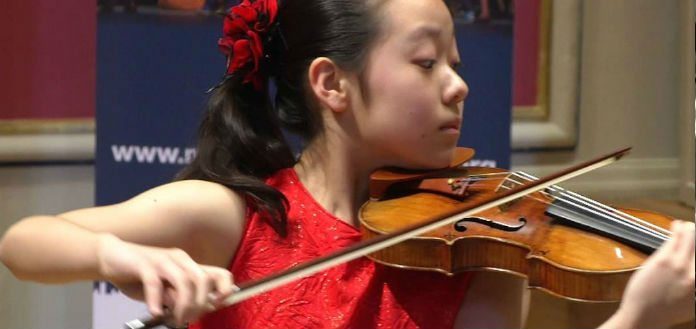 The Menuhin Competition has today announced the 22 Junior and 22 Senior candidates for the 2018 competition – to be held in Geneva, Switzerland from April 12-22nd.
Widely recognized as the world's leading competition for violinists under the age of 22, previous 1st prize winners include VC Artists Ray Chen, Chad Hoopes, Xiang Yu, Stephen Waarts, Kevin Zhu, Rennosuke Fukuda, Kerson Leong, Yesong Sophie Lee and Ziyu He.

The 22 Junior competitors are: 
Jiyee Jen Ahn (14, South Korean)
Non Aoyama (13, Japanese)
Chloe Chua (11, Singapore)
Nurie Chung (12, South Korean)
Marley Erikson (14, American)
Jacques Forestier (13, Canadian)
Helen Hyun (12, American/South Korean)
Miray Ito (15, American/Japanese)
Yeyeong Jin (14, South Korean)
Kyota Kakiuchi (14, Japanese)
Hina Khuong-Huu (13, American/Japanese/French)
Caecilia Lee (14, American)
Christian Li (10, Australian)
Haewon Lim (13, South Korean)
Ruibing Liu (12, Chinese)
Sean Mori (15, American/Japanese)
Christina Jihee Nam (15, American)
Serin Park (13, American)
Guido Sant-Anna (12, Brazilian)
Clara Shen (12, German)
Hanchi Shi (14, Chinese)
Anatol János Toth (14, Swiss/German)
The 22 Senior competitors are: 
Diana Adamyan (17, Armenian)
Otto Antikainen (18, Finnish)
Rio Arai (18, Japanese)
Zachary Brandon (18, American)
Qing Yu Chen (17, American)
I-hao Cheng (19, Taiwanese)
Elli Choi (16, American)
Michael Germer (15, Danish)
Yehun Danny Jin (18, South Korean)
Elena Kawazu (19, American)
HyunJae Lim (20, South Korean)
Dong Min Lim (16, South Korean)
Zhen Liu (20, Chinese)
Tianyou Ma (17, Chinese)
Nathan Mierdl (19, French/German)
Nikola Pajanović (18, Slovenian)
Sumina Studer (21, Swiss)
Takumi Taguchi (16, American/Japanese)
Eric Tsai (20, American)
Julian Walder (17, Austrian)
Jinyu Wang (20, Chinese)
Jinyoung Yoon (19, South Korean)
"This is going to be an exceptional event in Geneva …" competition chairman Gordon Back has told The Violin Channel.
"The pre-selection jury and I were particularly impressed by the technical and artistic level of the candidates …" he has said.
"For the youngest among them, the Competition will be their first international experience, and we are absolutely delighted to give them the opportunity of participating in this event which is all about cultural connection, exchange and learning." 
The 2018 jury will comprise: Jury Chair Pamela Frank, Vice Chair Joji Hattori, Itamar Golan, Ilya Gringolts, Henning Kraggerud, Lu Siqing, Maxim Vengerov, Soyoung Yoon – and VC Artist Josef Spacek.
VC YOUNG ARTIST YESONG SOPHIE LEE | 2016 MENUHIN COMPETITION | JUNIOR 1ST PRIZE | 12 YEARS OLD 
As the competition's official 2018 media partner, The Violin Channel will be providing exclusive rolling-coverage – live from all venues. You won't miss a beat! 
PICTURED: 2016 Menuhin Competition Junior 1st Prize winner, VC Rising Star Yesong Sophie Lee.
Comments
comments