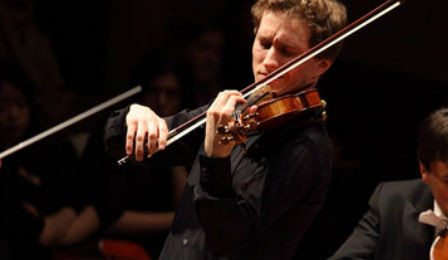 The 24 candidates have today been announced for the 2016 Carl Nielsen International Violin Competition - to be held in Odense, Denmark from April 16th to 22nd.
This year's competitors are:
Wonhee Bae (29, South Korea)
Amalie Elmark (23, Denmark)
Mohamed Hiber (20, France)
Luke Hsu (25, USA)
Liubov Kalymkova (24, Russia)
Karen Kido (21, Japan)
Woo Hyung Kim (24, South Korea)
Ji Yoon Lee (23, South Korea)
Wooil Lee (26, South Korea)
Fanglei Liu (24, China)
Alexandra Lomeiko (24, New Zealand)
Grace Park (29, United States)
Soo-Hyun Park (27, South Korea)
Mari Poll (28, Estonia)
Liya Petrova (25, Bulgaria)
Arsenis Selalmazidis (25, Greece)
Orest Smovzh (25, Ukraine)
Ji Won Song (23, South Korea)
Karen Su (17, USA)
Airi Suzuki (26, Japan)
Yun Tang (23, China)
Suliman Tekalli (28, USA)
Natsumi Tsuboi (22, Japan)
Michiko Yamada (23, UK)
The 1st prize winner will receive €12,000 (US $14,000), a CD recording on the Orchid Records label - and a minimum of ten concert engagements with top European orchestras.
'Too many competitions leave the young artist ill-equipped to embark on a professional career … our aim is to identify and help launch the careers of extraordinary and versatile talent as they begin the long road ahead of them," Competition President, violinist Nikolaj Znaider has said.
"A number of competitions are marred by the personal interests of their jury members - giving advantages to particular participants and making the competition effectively redundant ...' Nikolaj has told The Violin Channel.
"It is of paramount importance for us to maintain transparency throughout the entire process of the competition - from choosing the participants to singling out the winners," he has vowed.
This year's jury includes VC 'Artist' Noah Bendix-Balgley, Corina Belcea, Jian Wang and John Gilhooly.
Former major prize winners include VC 'Artists' Hrachya Avanesyan and Josef Spacek.
PICTURED: 2008 Carl Nielsen International Violin Competition 3rd Prize winner, VC 'Artist' Josef Spacek.