INTERNATIONAL DAY OF THE GIRL
INTERNATIONAL DAY OF THE GIRL | Q&A with Conductor Jeannette Sorrell
We talked with Jeannette Sorrell, GRAMMY®-winning conductor, founder, and artistic director of Baroque orchestra Apollo's Fire.
At what moment did you realize you wanted to be a conductor and who were your main inspirations and people who really encouraged you?
When I was 15, I started leading an instrumental and vocal ensemble for fun at my church. I was leading from the keyboard, only because there was no one else to lead us... I had NO IDEA that it would become something serious. But the next year, my mom suggested that I might like to take conducting lessons. Like a typical teenager, I said, "Oh mom, what a crazy idea. Why would I want to do THAT?"
But then I thought about it for a month, and then I tried a conducting lesson with a very kind college professor, and I liked it! I really owe my career to my mom, and to the kind professor who gave me my first lessons.
What were the obstacles that you faced as an emerging young female conductor as you were building your career? Was it more difficult for you, do you feel, than your male colleagues?
The lack of female role models was very discouraging. I knew there was no point in trying to emulate male conductors — that was not going to work for me. I was also told by the Juilliard conducting teacher (Prof. Otto Werner Mueller) that he was not accepting me to his class because "orchestras would not accept a woman as a conductor." This was after I had passed through 3 rounds of eliminations and made it to the finals.
Then a few years later, I was invited to interview for the Assistant Conductor Position at the Cleveland Orchestra, but Maestro von Dohnanyi told me he would not give me an audition because "audiences in Cleveland would not accept a woman conductor." So I took a different path and founded my own orchestra, Apollo's Fire.
What advice do you have for little girls and young women in your audience seeing you on the podium with their own aspirations of one day leading an orchestra?
Be true to yourself. Your authenticity is your most important asset as an artist. The world has a very narrow vision of what conductors are like, but we can't change ourselves to match that narrow vision. We have to be ourselves, and let them open their eyes when they are ready.
GRAMMY®-winning conductor Jeannette Sorrell is recognized internationally as one of today's most compelling interpreters of Baroque and Classical repertoire. She is credited by BBC Music Magazine for "forging a vibrant, life-affirming approach to early music."
Sorrell is the founder and artistic director of APOLLO'S FIRE, and has led the renowned period ensemble as conductor and harpsichord soloist in sold-out concerts from Carnegie Hall and London's BBC Proms to the Tanglewood and Ravinia festivals. With over 7 million views of their YouTube videos, Sorrell and Apollo's Fire have released 26 commercial CDs, of which 8 have been bestsellers on Billboard Classical. Sorrell won a GRAMMY® in 2019 for her album "Songs of Orpheus" with Apollo's Fire and tenor Karim Sulayman.
She holds an honorary doctorate from Case Western University, two special awards from the National Endowment for the Arts for her work on early American music, and an award from the American Musicological Society. Passionate about guiding the next generation of performers, Sorrell is the architect of Apollo's Fire's Young Artist Apprentice program, which has produced many of the nation's leading young professional baroque players; and the new Artistic Leadership Fellows program.
To help celebrate today's United Nations "International Day of the Girl," The Violin Channel, in collaboration with our good friends at the Dallas Symphony Orchestra, is hosting an all-day special online festival dedicated to gender equality and inspiring the next generation of women in classical music.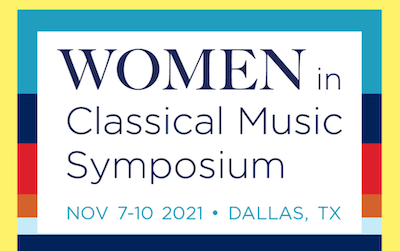 Presented by the Dallas Symphony Orchestra from November 7-10, the Women in Classical Music Symposium will be held in-person in Dallas, and will feature further talks and panel discussions on topics relevant to women in the classical music industry | This year's focus will be on "The Future is Female – Inspiring Women in Top Leadership Positions," and will also include a series of networking events, performances and opportunities for peer engagement | This year's featured guest will be Grammy Award-winning soprano Renée Fleming, who will receive the Symposium's Award of Excellence | To learn more and to register, visit: www.womeninclassicalmusic.com