INTERNATIONAL DAY OF THE GIRL | Q&A with Conductor Marie Jacquot
The Violin Channel recently talked with multiple conductors at different stages of their careers to discuss what it means to be a female conductor in today's industry
We talked with Marie Jacquot, First Kapellmeister at Deutsche Oper am Rhein Düsseldorf/Duisburg.
At what moment did you realize you wanted to be a conductor? Who were your main inspirations and people who encouraged you?
At first, I wanted to become a professional tennis player. But when I was 14, I was playing the trombone in the small conservatory symphony orchestra in my town, and I was immediately captivated by the conductor's direction, musicality, and charisma. Without this encounter, I probably would not have become a conductor.
What were the obstacles that you faced as an emerging young female conductor while building your career? Was it more difficult for you, do you feel, than your male colleagues?
Personally, I have never encountered obstacles and problems being a female conductor, but rather reluctance and preconceptions about my youth. Now at 30, these judgments are becoming rarer.
I support the desire to have diversity and parity if they are based on competence and not on simple quotas. I never thought the conductor's job was a man's job. I didn't need female role models to project myself into this profession. In fact, I believe this is more of a concern of society than of mine.
What advice do you have for little girls and young women in your audience with their own aspirations of one day leading an orchestra?
This translates into qualities: work, passion, rigor, sharing, humility, communication, and above all, the drive to pursue your dreams and invest yourself with all your heart.
Marie Jacquot is First Kapellmeister at Deutsche Oper am Rhein Düsseldorf / Duisburg. Within the current season, she will debut with Wiener Symphoniker, Malmö Symphony Orchestra, the orchestra of the Opéra national de Lorraine, and returns to DSO Berlin. For several years, Marie Jacqout has been developing strong artistic ties with the Bayerische Staatsoper. Jacquot took over the musical direction of the festival project Tonguecat, conducted a preview concert of the Bayerisches Staatsorchester as part of their guest appearance in New York, and returned to Munich Opera Festival 2018 to lead the world premiere of Die Vorübergehenden by Nikolaus Brass.
From 2016 to 2019, Marie Jacquot was First Kapellmeisterin and deputy GMD at Mainfranken Theater Würzburg. Since 2019 she has been included in the second funding stage at Dirigentenforum / Deutscher Musikrat. She won the "Ernst-Schuch-Prize" in 2019, and in 2020, she was nominated as "Newcomer of the year" by the International Opera Awards.
To help celebrate today's United Nations "International Day of the Girl," The Violin Channel, in collaboration with our good friends at the Dallas Symphony Orchestra, is hosting an all-day special online festival dedicated to gender equality and inspiring the next generation of women in classical music.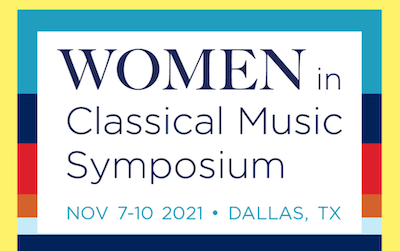 Presented by the Dallas Symphony Orchestra from November 7-10, the Women in Classical Music Symposium will be held in-person in Dallas, and will feature further talks and panel discussions on topics relevant to women in the classical music industry | This year's focus will be on "The Future is Female – Inspiring Women in Top Leadership Positions," and will also include a series of networking events, performances and opportunities for peer engagement | This year's featured guest will be Grammy Award-winning soprano Renée Fleming, who will receive the Symposium's Award of Excellence | To learn more and to register, visit: www.womeninclassicalmusic.com