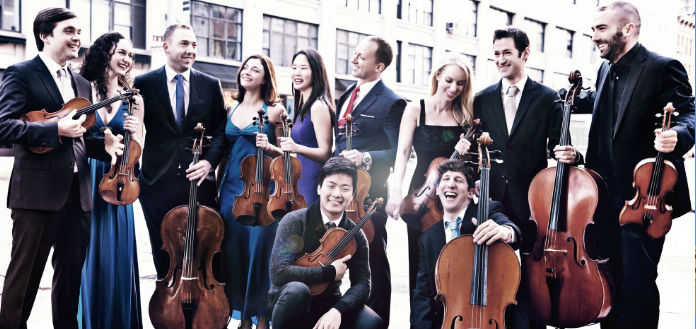 The Violin Channel recently caught up with New York-based violist, Luke Fleming - Artistic Director of the newly-formed Manhattan Chamber Players collective.
In a VC-exclusive blog, Luke talks us through his innovative programming and vision for this outstanding new, young string ensemble.
"I remember the moment I knew I wanted a career in chamber music.  The exact moment.  It was June of 1999, my first summer at Interlochen Arts Camp in Michigan, and I was rehearsing Brahms's String Sextet in G major.  There is a place in the exposition where the second viola plays a supporting countermelody to the gorgeous second theme in first violin and first cello.  It's something you would never notice in a concert or recording (or if you did, it would probably mean the second violist was drawing far too much attention to himself!).  In that moment, however, faced with the challenge of contributing to the group sound with such subtlety, I knew this was exactly the kind of music I wanted to play more of.  Our performance of that piece was my first time playing chamber music in public.
Seventeen years later, I am happy to say that I am still building my career along those lines.  Chamber music performance always being my focus, I have been privileged to attend some amazing music schools, perform at the chamber music festivals that I always dreamed of, and travel the world playing in a string quartet. And it is with my most recent project, the Manhattan Chamber Players, that I feel I have brought together some of the most gifted artists in the business to create a unique way of programming and performing the great chamber repertoire.
With all the challenges inherent in living the life of a professional chamber musician (constant travel, living paycheck to paycheck, rehearsing at irregular and odd hours, the list goes on…), I think, in a perfect world, we all want to be absolutely ecstatic about the music we are making—and the people with whom we are making it—every single day.  We have all been in the position where we simply cannot afford to entertain such an idealistic point of view.  But for me, one transcendent concert experience is worth a hundred so-so performances.  Over time, it has become increasingly important to me to stick to this ideal as uncompromisingly as possible.
It was with all this in mind that I formed the Manhattan Chamber Players (MCP), a collective that is comprised of some of today's most sought-after young chamber musicians.  MCP performs in every string/piano chamber combination, from duo sonatas to piano quintets to string octets, often within the same program.  MCP is not a chamber orchestra, but rather a chamber music collective, taking the Chamber Music Society of Lincoln Center and Musicians from Marlboro—two of the organizations that have inspired me the most over the past 17 years—as its inspiration.  In our concerts, we break down into various combinations to fit the programming needs and desires of any given presenter.  A few examples of our diverse programming: we are playing two concerts next week in NYC that feature a string quintet and piano quartet along with violin and viola/piano duos; in early June in Connecticut, we are doing a concert of string duos and trios; last February, we did a residency in Mexico that involved a string quintet + piano group; and next season, we will perform a concert in Minnesota that includes a string trio, piano quartet, and string sextet.  Additionally, the two composers we have on our roster, Vivian Fung and Chris Rogerson, compose music specifically for our artists, keeping us directly involved in the creation of excellent new works for the chamber music canon and grounding us in the music of today.
When forming MCP, I had been spending a lot of time thinking back on those singular experiences playing chamber music that had set me on that path in the first place (like the Brahms at Interlochen), and I had developed a strong desire to play again with the artists who had inspired me the most over the course of my time in the chamber music world.  As I started to compile a mental list of these people, I realized what similar backgrounds we all had: Marlboro, Ravinia, Yellow Barn, Juilliard, Curtis, etc.  But the musicians I had in mind not only had similar sensibilities and backgrounds; they also were selfless music-makers—that is, colleagues with whom I knew a collaboration in any chamber combination would be and ego-less affair, truly "all about the music."
So I was happy, but not surprised, that when I called these people who are now MCP Artists, they were very enthusiastic about this project.  More than a few times, the response I got was, "That sounds like a dream come true!"  Much, much work was put into making this idea a reality, and I honestly don't want to revisit the countless hours required of anyone establishing and building an organization from the ground up!  But when we finally gave our first concerts in December 2015, the onstage comfort and rapport, combined with a thrilling spontaneity, proved to all of us that we had embarked on a fulfilling musical journey.  At one moment during the cathartic climax of the slow movement of Mendelssohn's String Quintet in B-flat, tears came to my eyes as I was playing, and I realized that I could not remember the last time that happened.  In that moment, I knew we had created something truly special together.  Like that Brahms rehearsal at Interlochen 17 years ago, I will never forget it."
The Manhattan Chamber Players will perform music by Brahms and Dvorak on Tuesday May 31st at Engleman Recital Hall, Baruch College