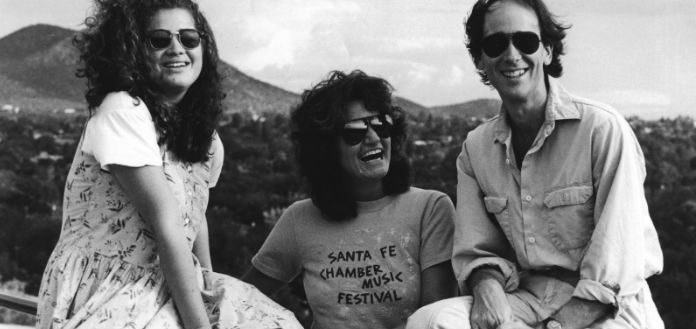 The Violin Channel recently caught up with American cellist Marcy Rosen, longtime colleague with violinist Ida Levin - who passed away last month, aged just 53.
In a VC-exclusive blog, the Mendelssohn String Quartet cellist pays tribute to her late-friend and fellow musician:
"My dear friend and colleague Ida Levin passed away on November 19, 2016 after a ferocious and heartbreaking battle with leukemia. She is survived by her beloved 10 year son Judah and her loving 86 year old father Arnold.
Ida was a force of nature. She was fiercely passionate about everything in her life and she never did anything without total commitment. I had the great pleasure of playing with her in the Mendelssohn String Quartet for 7 of our 31 years. Ida brought a strong vision to our ensemble. Her passionate interpretations of Janacek, Schoenberg and Berg stand out in my memory.
Ida had an interesting and varied musical life playing and teaching at different festivals and schools all over the world. That being said, really it was mostly about the friends she made everywhere she went. I think Ida had more people she could sincerely count on as friends than anyone else I know. She was vivacious, funny, generous, stubborn and sometimes quite bossy - but most of all she simply loved life. Once when we were in Italy we took the train from Rome to Naples just to have the Gnocchi at her favorite restaurant there! All of us who loved her have many small and incredibly touching memories of Ida.
In the last many years most of the time I spent with her was at the Marlboro Festival where both of us have dedicated a large part of our adult life to carrying on the traditions and legacies of the great artists who founded that illustrious institution. It was so important to her to hand down the lessons she learned from Rudolf Serkin, Sascha and Mischa Schneider, Felix Galimir, Sandor Vegh, Philip Naegele, Mieczysław Horszowski, Pina Carmirelli, among many others.
Ida's life was as centered on the enjoyment of food as much as it was on music. She was for years, a devout vegetarian who made incredibly delicious pastas and lasagna. But every now and then…I would see her eating a hot dog! When in Los Angeles (she moved back to Santa Monica before giving birth to Judah) there were many memorable meals at El Cholo, her favorite Mexican restaurant.
The last thing I want to talk about here is her love for her son Judah. Ida was an only child and Judah is also an only child. One has to admire Ida for following her heart and desires to bring him into the world. Her love for Judah is paramount. Leaving him behind in this world is not something she ever imagined and sharing stories and memories with Judah is something Ida would ask all of us to do.
I remain in shock at the death of this vibrant and forceful woman. She will be missed by me and by many people all over the world and I know that she will always be admired and revered by everyone whose life she touched.
-Marcy"
PHOTO: (from left to right): Ida Levin, Marcy Rosen & Carter Brey