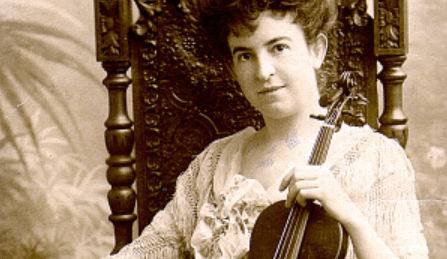 American violin virtuoso Maud Powell died on this day in 1920 - aged just 52.
A student of Henry Schradieck, Charles Dancla and Joseph Joachim, she is remembered as one of the first female American violinists in history to achieve international rank.
She gave the American premiere performance of 15 violin concertos - including Tchaikovsky, Dvorak, Saint-Saens No. 3, Lalo 'Symphony Espagnole', Sibelius and Bruch No. 1 in G Minor.
She is also credited with having revived a number of neglected works of the 18th Century - including Mozart's 'Sinfonia Concertante'.
[video_lightbox_youtube video_id="jDzKqZiUA-U" width="590" height="385" auto_thumb="1"]
MAUD POWELL | ELGAR | SALUT D'AMOUR | 1913
[video_lightbox_youtube video_id="uaPFEqmGzcc" width="590" height="385" auto_thumb="1"]
MAUD POWELL | SARASATE | ZIGEUNERWEISEN
[video_lightbox_youtube video_id="uoUfC0vgVq8" width="590" height="385" auto_thumb="1"]
MAUD POWELL | CHOPIN (ARR. POWELL) | MINUTE WALTZ