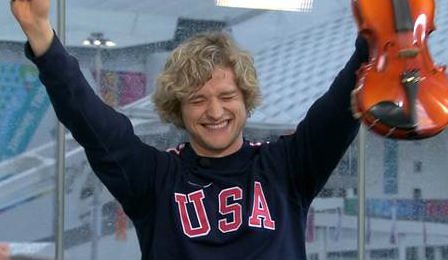 A day after his historic gold medal, American ice dancer Charlie White has given another pressure-packed performance – this time trading his skates for his strings.
[video_lightbox_youtube video_id="ej7ztY6_pTg" width="590" height="385" auto_thumb="1" ]Charlie White | NBC Today Show | Sochi Winter Olmypics | Vivaldi Violin Concerto
The impromptu Vivaldi performance was part of a wager he had previously made with NBC host Savannah Guthrie, that if he won Gold at the Sochi Winter Olmypics he would return to the show and play his violin on national television.
"I think I was more nervous for that. It's been a solid three years since I've played the violin so I'm just honored that it could be for you guys," Charlie has said.
The 26 year old American skater, with partner Meryl Davis was awarded gold on Tuesday in the Ice Dance - Team USA's first-ever gold in this event.