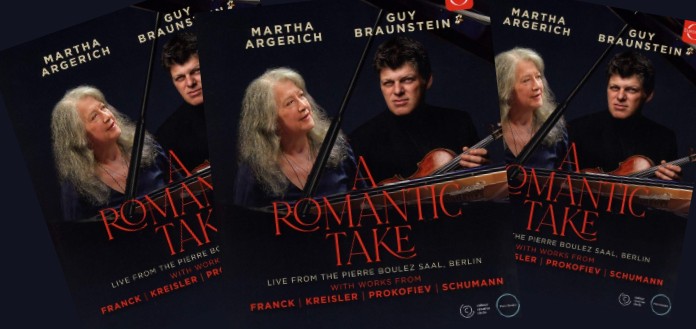 EuroArts announced the release of violinist Guy Braunstein and pianist Martha Argerich's new "A Romantic Take" DVD.
The performance feature Schumann's Violin Sonata No. 1 in A minor, Prokofiev's Violin Sonata No. 2 in D major, Franck's Violin Sonata in A major, and Kreisler's "Liebesleid" and "Schön Rosmarin."
"I heard Martha Argerich playing all three pieces when I was a little boy," Guy Braunstein told The Violin Channel. "Playing these with her was sort of a childhood dream coming true.
"I usually don't get tired while playing. With Martha, however, after one movement, I felt like I just finished an iron man challenge.
"You cherish every single note. You have to give all you got, and more. I hope the viewers will feel that while watching!"