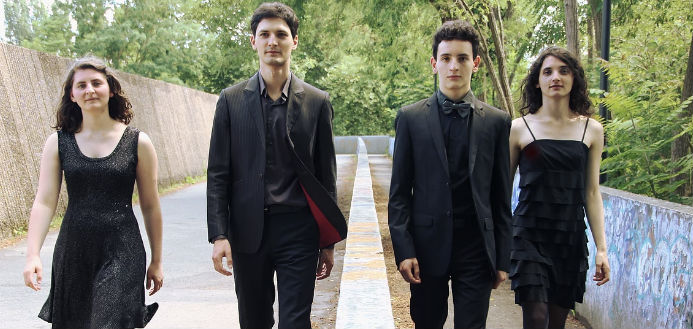 The Madrid-based Quatuor Tchalik has been awarded 1st prize at the 2018 International Mozart String Quartet Competition – in Salzburg, Austria.
Students of Günter Pichler at the Escuela Superior de Música Reina Sofía in Madrid, the French ensemble comprises four siblings - violinists Gabriel and Louise, violist Sarah and cellist Marc Tchalik.
Hosted by the Mozarteum Univerity Salzburg, the Quatuor Tchalik will receive €20,000.
2nd and 3rd prizes were awarded to the Eliot Quartet and the Quatuor Akos.
The Quatuor Tchalik are former 1st prize winners at the Vienna University of Music Summer Academy Chamber Music Competition - and former recipients of the Fondazione Monte dei Paschi di Siena Prize.
The 2018 jury comprises: Lukas Hagen (Head), Mark Steinberg (Brentano Quartett violinist), Cibrán Sierra Vázquez, (Cuarteto Quiroga violinist), Jonathan Brown (Cuarteto Casals violist), Isabel Charisius (Alban Berg Quartett violist), Sally Pendlebury (Fitzwilliam Quartet cellist), and Enrico Bronzi (Trio di Parma cellist).