Leipzig String Quartet Jump to Defence of Arrested Leader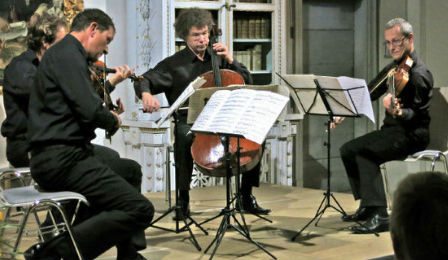 The Leipzig Quartet members have today publicly come to the defence of 1st violinist, Stefan Arzberger - who was arrested on Friday, in Manhattan and charged with strangulation and burglary offences.
The ensemble today released the following brief statement, via social media: "After he get drugged in a bar he was disoriented for 5 hours and got robbed. All credit cards were used with high criminal energy and serious damage. Investigation is in progress."
Arzberger, 42 was arrested and released on US $100,000 bail in a New York City court on Saturday – after it has been alleged he attempted to strangle a 64 year old female hotel guest at the Hudson Hotel on Columbus Circle.
"He's an upstanding member of society without a criminal record who has devoted his life to the arts,'' Arzberger's lawyer Nicholas Kaizer has said in a statement "… he has no record anywhere, and we hope at the end of the journey, he has no record here."
The investigation continues and presumptions of innocence apply.
PREVIOUS