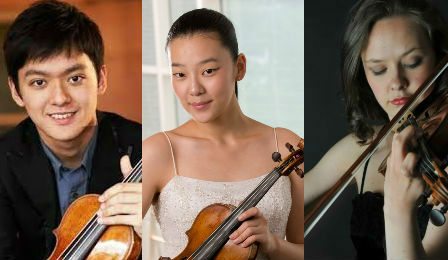 The 6 Finalists at 2015 Tchaikovsky International Violin Competition have just minutes ago been announced, in Moscow – including 3 VC 'Young Artists'.
The 2015 Finalists are:
VC 'Young Artist' Yu-Chien Benny Tseng (Taiwan)
VC 'Young Artist' Alexandra Conunova (Moldova)
VC 'Young Artist' Clara Jumi Kang (Germany)
Pavel Milyukov (Russia)
Bomsori Kim (South Korea)
Haik Kazazyan (Russia)
This 2015 competition will features 4 disciplines: violin, cello, piano and vocal – with the division winners to be announced on July 1st.
For the Final round, each violin candidate will present Tchaikovsky's Violin Concerto - in addition to a Concerto of their own choice.
Each category winners will receive US $30,000 – with the one Grand Prix winner to be awarded an additional US $100,000.
The 2015 violin jury comprises: Salvatore Accardo, Yuri Bashmet, Maxim Vengerov, Liana Isakadze, Leonidas Kavakos, Ilya Kaler, Boris Kushnir, Mihaela Martin, Vadim Repin, Roman Simovic, Viktor Tretyakov, Maxim Fedotov, Vera Tsu Wei Ling, James Ehnes, Michael Haefliger and Nikolaj Znaider.
PICTURED: Tchaikovsky International Violin Competition Finalists, VC 'Young Artist' Yu-Chien Benny Tseng, Clara Jumi Kang and Alexandra Conunova.