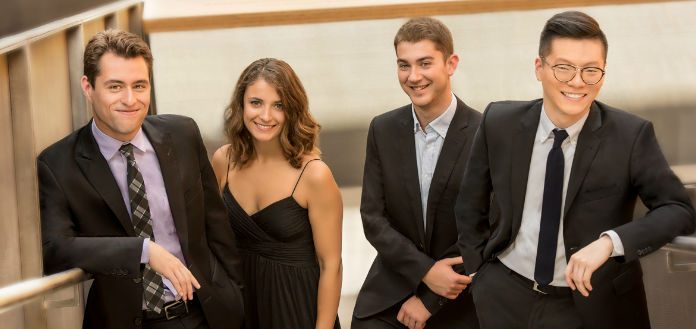 The Philadelphia-based Dover Quartet has firmly established themselves as one of the most in-demand young, chamber ensembles to emerge internationally in recent years.
Graduates of the Curtis Institute of Music, the Dover are top prize winners at the Fischoff, Wigmore Hall and Banff International String Quartet Competitions – and recent recipients of the prestigious Cleveland Quartet Award, the Lincoln Center Hunt Family prize for outstanding achievement – and a prestigious 2017 Avery Fisher Career Grant.
Comprising violinists Joel Link and Bryan Lee, violist Milena Pajaro-Van de Stadt and cellist Camden Shaw, the Quartet was recently dubbed by the New Yorker as 'the young American string quartet of the moment' – with the Chicago Tribune suggesting they 'have it in them to become the next Guarneri String Quartet'.
The Dover currently perform in excess of 100 concerts per year internationally – and have recently been appointed the Quartet-in-Residence for the John F. Kennedy Center for the Performing Arts, Chamber Music Northwest, Northwestern University Bienen School of Music, Walton Arts Center's Artosphere, Peoples' Symphony and the Amelia Island Chamber Music Festival.
They have formerly served as Quartet-in-Residence at Rice University Shepherd School of Music and the Curtis Institute of Music.
The ensemble's 2018-19 season highlights include performances at the Kennedy Center, San Francisco Performances, the Philadelphia Chamber Music Society, Spivey Hall, Boston's Celebrity Series, the Chamber Music Society of Detroit and Carnegie Hall.
In addition, the Dover's season features tours of Hong Kong, Europe, and Australia.
In January 2018 the Quartet performed together with the superstar violinist Janine Jansen and pianist Jean-Yves Thibaudet in Carnegie Hall's Stern Auditorium – and played the Dvořák Piano Quintet at Northwestern University with Emanuel Ax in April 2018 to great acclaim.
VC ARTISTS DOVER QUARTET | BARBER | ADAGIO FOR STRINGS | 2015
VC ARTISTS DOVER QUARTET | SMETANA | STRING QUARTET NO. 1 'FROM MY LIFE' | 1ST MVT | 2017
VC ARTISTS DOVER QUARTET WITH JANINE JANSEN & JEAN-YVES THIBAUDET | CHAUSSON | CONCERTO FOR VIOLIN, PIANO, & STRING QUARTET | 2018
VC ARTISTS DOVER QUARTET | TCHAIKOVSKY | STRING QUARTET NO. 1 IN D MAJOR, OP. 11 | LIBRARY OF CONGRESS | 2017
VC ARTISTS DOVER QUARTET | BEETHOVEN | STRING QUARTET OP. 18 NO. 4 IN C MINOR | 2014
VC ARTISTS DOVER QUARTET | DANIEL SCHLOSBERG | TWIN PEAKS FANTASY 'BETWEEN DEATH AND DREAMS' | WQXR | 2017
VC ARTISTS DOVER QUARTET | DVOŘÁK | 'AMERICAN' STRING QUARTET | 1ST MVT | BROOKLYN CLASSICAL | 2016
VC ARTISTS DOVER QUARTET & ANNE-MARIE MCDERMOTT | BRAHMS | PIANO QUINTET IN F MINOR OP. 34 | 3RD MVT | BRAVO! VAIL | 2016
https://youtu.be/WQFMVFbf5_g?t=1m19s
VC ARTISTS DOVER QUARTET | BEETHOVEN | STRING QUARTET NO. 12 IN E-FLAT MAJOR OP. 127 | CHAMBER MUSIC NORTHWEST | 2015
Name: Violinist, Joel Link
Violin: 1856-1857 Jean Baptiste Vuillaume on loan by Desiree Ruhstradt
Bow: Charles Espey
Rosin: Peter Infeld from Thomastik
Teachers: Joseph Silverstein, Pamela Frank, Frank Huang, Roland Vamos
Name: Violinist, Bryan Lee
Violin: 1904 Riccardo Antoniazzi
Bow: François Nicolas Voirin (with Bakers Rosin), Charles Espey, Cody Kowalski, Gilles Nehr
Teachers: Pamela Frank, Victor Danchenko, Choong-Jin Chang, Soovin Kim, Frank Huang
Name: Violist, Milena Pajaro-van de Stadt
Viola: 1780 Michele Deconet "the Kroyt", generously on loan in memory of Boris Kroyt of the Budapest Quartet
Bow: David Samuels, Charles Espey, Francois Malo, John Dalley
Accessories: Sheriff Rosin
Teachers: Michael Tree, Roberto Diaz, Misha Amory, Joseph DePasquale, James Dunham, Michael Klotz, Sergiu Schwartz and Melissa Pierson Barrett
Name: Cellist, Camden Shaw
Cello: 2010 Sam Zygmuntowicz
Bow: 2014 Elizabeth Van Der Veer Shaak
Accessories: Planetary Perfection Geared Pegs | Marvin Cable Tailpiece | Tone Acoustics "Grand Concerto" Endpin
Teachers: Toby Saks, Peter Wiley, Norman Fischer, David Finkel, Steven Isserlis
Comments
comments