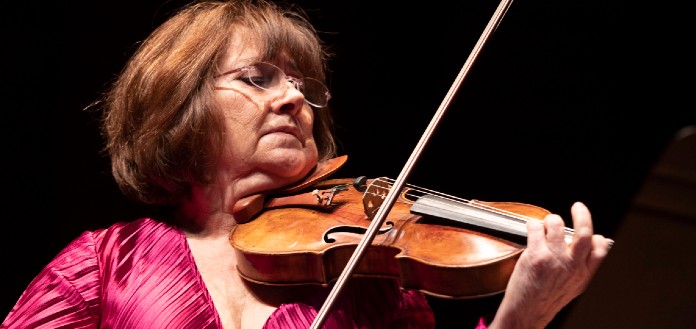 This week, The Violin Channel caught up with violinist and long time Chamber Music Society of Lincoln Center musician, Ani Kavafian.
''Chamber Music ... My first love .... 
When I was a student at Juilliard (some years ago!), I used to attend concerts at Alice Tully Hall given by the Chamber Music Society of Lincoln Center. I was particularly impressed by the camaraderie amongst the performers as I was hearing the spectacular music played by some of the best chamber musicians in the business, I came to the realization that a position with this organization would be the best "job" a musician could have! At that point, it was only a  dream I would someday actually be up on stage alongside those that I had admired from afar.
My "break" came at the behest of Young Concert Artists' director, Susan Wadsworth who set up an audition with her husband, Charles Wadsworth, the artistic director of CMS. I was thrilled beyond words to be added to a list of assisting artists at the Society. This meant that I would be playing as a second violinist to the premier members of the group. What an amazing opportunity to learn from these highly experienced knowledgeable musicians! By sitting alongside those that I respected....actually even revered, I kept my ears open to all suggestions made by them, learned about the music as well as how rehearsals were conducted. Who spoke when, who seemed to have the shortest fuse, when to stop talking, etc.. Briefly, I had to make a huge learning curve to garner the respect of those that were my seniors by some 30 years. I saw how patient they were with my excited suggestions (Oh let's do it this way!!) even though they knew already that my ideas had been tried by them before and had NOT worked!
There is absolutely no substitute for learning by doing. There is also no substitute for learning from musicians from a different generation. Having been on stage with the likes of Leon Fleisher, Walter Trampler, Peter Pears, and so many other great artists, I cannot think of a better gift then the musical  foundation they gave me. Now that I have "graduated" to that older generation, I feel the responsibility of channelling, to my younger colleagues, what I learned in over 35 years playing with CMS , i.e.being patient while they suggest something that I have tried and know it may not work, how to speak to colleagues during and after rehearsals, and how to achieve the best performance.
Although there is much to learn from working alongside those from an older generation, I do not take for granted the excitement and energy that's generated by younger players who are superb musicians. I gain so much from their enthusiasm and am enormously grateful to those that are some 30 years my junior who remind me of what it was like to be on the stage at Alice Tully Hall and have the "job" I dreamt of.
- Ani Kavafian''