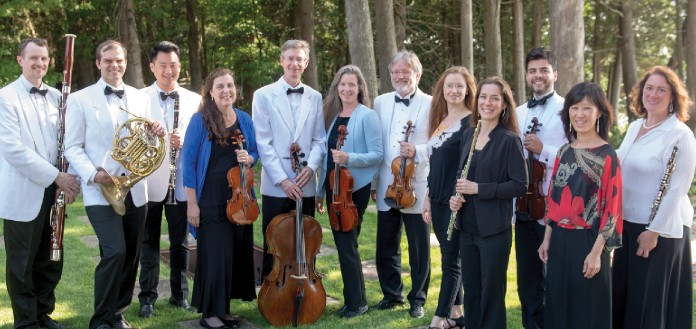 Can you tell us about Midsummer's Music? Where is it hosted and when was it founded? What would you say is the series core driving force?
"Wisconsin's longest running summer chamber music series, Midsummer's Music, based in Door County, is a multi-faceted organization featuring concerts, collaborations with local organizations and institutions, and attracts our world-class musicians (our driving force) from the Lyric Opera of Chicago, Pro Arte String Quartet, Chicago Symphony, and the Aspen Music Festival, among others.
We serve to provide unique and diverse cultural, historical, and scenic musical experiences with our series of 40 concerts in distinctive venues. The Griffon String Quartet, our resident string quartet, was created to enrich the lives of children and adults throughout Northeastern Wisconsin through concerts, workshops, and music education.
Collaborations include Write On, Door County and Woodwalk Gallery involving a host of poets and artists who create original works based on the music that inspired them, and the Celebrate Water initiative was a major programming commitment to bring awareness to water supply protection.
Midsummer's Music was co-founded in 1990 by Jim and Jean Berkenstock, long-time Door County summer residents and principal orchestral players with the Lyric Opera of Chicago. In 1991, Midsummer's Music was inaugurated performing three of its first five concerts at Door County's annual Fyr Bal Festival, celebrating the area's strong Scandinavian heritage and the summer solstice, when daylight is so prolonged in contrast to the long winter nights, and the banishment of the "winter witch" with traditional singing, dancing, music and bon fires on the beach.
The Berkenstocks were inspired to create something that embodied this joyous spirit and to spread it beyond the solstice throughout the entire year. Rather than celebrating a specific date, Midsummer's Music celebrates the spirit of the solstice celebration with fine music, food, and friendship in stunningly beautiful locations."
How does Midsummer's Music differ from other summer events? And, can you tell us more about the different venues in which this year's concerts will be held?
"Midsummer's Music concerts take place in a variety of unique, intimate and magical spaces and after each program the audience enjoys interacting with many of the musicians who have been performing for us for many years. We also highlight works by women, composers of color and lesser known composers with engaging pre-performance talks. It is incredible how many great works for chamber music exist but have yet to be discovered.
As to venues, located in the heart of Egg Harbor, the Kress Pavilion is the ideal place to perform. The building features a Great Hall with wrap-around porches that offer sweeping views of the Bay and surrounding cherry orchards. The Village of Egg Harbor is rated one of America's Top Ten Coolest Small Towns.
The Miller Art Museum is Door County's year-round center for exhibition, education and creative enrichment in the visual arts and the Peninsula's only fine art museum, housing a dynamic permanent collection of 20th century Wisconsin art. The Museum's main gallery features regularly varying exhibitions, embracing a wide range of subjects and media, both historic and contemporary; the second floor collection surveys the extraordinary life and work of the celebrated dean of Door County artists Gerhard CF Miller.
When not having to restructure because of the pandemic, the picturesque Bjorklunden in Baileys Harbor is a venue where we perform regularly, and our original plans for this summer included a special concert on Washington Island, where guests would travel by charter ferry to reach the charming destination."
This year is the series 30th anniversary. What special events do you have planned to celebrate the milestone?
"This year we will celebrate our 30th anniversary via an online Gala hosted by guitar/banjo/mandolin (and violin artist) superstar Eric Lewis. The event kicks off on October 10 at 5 pm with a silent auction followed by a ticketed event featuring Midsummer's Music musicians.
The main fundraising attraction will be an auction of ten violins that have been painted and decorated by well-known Door County artists. It is guaranteed to be a fun event - full of celebration for our 30th anniversary. Please visit www.midsummersmusic.com to learn more and see some of these beautiful designed violins."
Your programming is very diverse, what are the highlights for you and what concerts are you most looking forward to?
"Midsummer's Music is dedicated to discovery and performance of lesser known composers and their chamber music works. We also program the works of women composers and composers of color to elevate a genre of valuable music from the chamber music repertoire. Midsummer's is proud to present five works by female composers this season.
One of the highlights for us this summer is the Soaring Spirits program which featured three composers of color including Samuel Coleridge-Taylor, George Walker, and Florence Price. Florence Price was a fascinating woman and her Piano Quintet was a major coup for us to discover!"
You have a number of partnerships and initiatives planned this year to help bring awareness to water supply in the area? Can you tell us about these?
"Door County is dedicated to preserving its beautiful environment. Organizations such as the Land Trust, the Ridges, Celebrate Water, Door County Parks and Lighthouses, and more come together to bring awareness to this gorgeous peninsula in Northeastern Wisconsin.
Midsummer's Music often programs music and brings in special guests to collaborate with these environmental groups. One season we programmed an entire summer with water themed related works to raise water supply and conservation awareness."
What measures have you put in place this year to adapt to the current COVID situation?
"I would like to say how saddened I am about the loss we all face. The arts are designed to communicate in person. We now recognize now that we can still present, but in a different way. Our first measure was to adapt and present virtual concerts and it has been a huge learning curve for us. I am extremely proud of how we adjusted to this unique way of presenting.
The second and most crucial step was to ensure space and safety for our musicians. Masks on and six to ten feet apart makes for a difficult rehearsal and performance but it all feels worth it knowing that we could offer free programs during such a difficult year for everyone. I think Midsummer's Music will continue to embrace online programs as we go forward to maintain our mission of bringing the highest quality music to residents and visitors to Door County.
With the help of the Violin Channel, we can now say we have succeeded in reaching our old and new friends around the globe."
With the festival being 100% online this year, what initiatives have you put in place to maintain Midsummer's Music's core qualities and audience experience?
"I am eager to share that we have just announced that we will offer one live program over the Labor Day weekend in the beautiful outdoor setting of the Woodwalk Gallery where space will be limited to 50 attendees. Please visit www.midsummersmusic.com to learn more and claim your tickets as I am confident we will sell out fast. All other programs this summer are online. Safety was always the priority, artistic quality was equally important including our programming.
Through grant support and funding, we were able to purchase video and audio recording equipment which our staff, all of whom have IT experience, learned about new software and streaming technologies. We were put to the test to understand how to get the best quality video possible and to produce it in a professional manner.
Being a small non-profit we have to stick to a tight budget, but thanks to our sponsors and donors we were able to accomplish these goals and offer all the online programs at no cost. Of course, donations are always welcome. It has truly been a team effort from the board, staff, and musicians to see the programs materialize from start to end."
If we want to tune in and watch this year's Midsummer's Music concerts, how can we do so?
"Please visit our website and click on virtual events. That will take you to programs that are still archived or live-streaming. Facebook and YouTube are additional options for viewing Midsummer's Music virtual programs.
Thank you for your time and attention to Midsummer's Music. We have enjoyed partnering with the Violin Channel!"