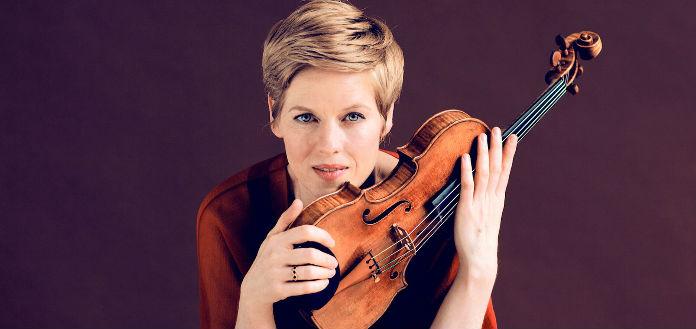 The Violin Channel recently caught up with German violinist Isabelle Faust - ahead of this week's performance of Beethoven's 6th, 7th and 8th Violin Sonatas with pianist Alexander Melnikov at New York's Lincoln Center.
Hi Isabelle. What is it about these monumental duos that resonate with you?
"The whole cycle of 10 sonatas is an astonishingly varied oeuvre.
And each opus group (op.12, op.23/24, op.30) shows Beethoven's unlimited imagination and joy of varying the characters in the sonata form again and again.
Op.30/1 has an utterly different character than then the 2 sister-sonatas, for instance its first movement being thought in a more linear way, almost string quartet-like.
The c-minor sonata is written in a Sturm und Drang-atmosphere, the third sonata on the contrary shows a good humored lightness and sparkling virtuosity. Each opus comes up with surprising variations in means of technique, style, atmosphere and motivic work that you could every time speak of an entire cycle on its own.
The opus 30 sonatas are in this sense certainly monumental"
You and Alexander were awarded prestigious Echo Classic, Grammophon and Diapason d'Or accolades in 2012 for your acclaimed recordings of these works. How do you feel your collaboration and interpretations have even further evolved since then?
"We've been living for a long time with these works and of course they have had a prominent place in our repertoire.
It's always difficult to pin down eventual changes in the interpretation when you deal with the works so regularly, but for sure they have grown on us and hopefully made their way towards an even more refined, deeper and yet more natural way of resonating inside us.
At the same time I do think that we can still stand up to our recording.
We did not yet feel the need to completely break with our "old" view of these works even if today we'd definitely record them with historic keyboard instruments and on gut strings"

Why is chamber music personally so important to you?
"I grew up playing second violin in a string quartet from age 11.
We took it very seriously, worked every weekend, won competitions, had lessons with famous quartets like the Melos or LaSalle quartet and started playing concerts at this early age.
This experience has been a fundamental one and I can't be grateful enough to have been given the chance to discover music and develop a musical understanding and thinking based on the chamber music polyphonic understanding.
I also deeply love the intimate dialogue which is only possible between chamber music partners rather than the musicians of a huge symphonic orchestra"
How do you go about bringing freshness to the Beethoven Sonatas and making them truly your own?
"By living with them through my entire musical life experiencing them in different circumstances, on historic and modern instruments, by rethinking Beethoven's music every time from a different angle, requestioning traditional ways of dealing with its problems"
What do you hope your New York audience will take away with them?
"I really hope that the public will catch the opus 30 cycle in all its colors and facets, its witty moments, its melancholic, demonious, lyrical, explosive, intimate and symphonic ones.
This opus shows the entire compositional capacities in a small chamber music formation, we are every time blown away by experiencing the unlimited thinking of this composer.
We wish to help the public get an idea of this genius and leave the concert in astonishment and deep admiration for Beethoven"