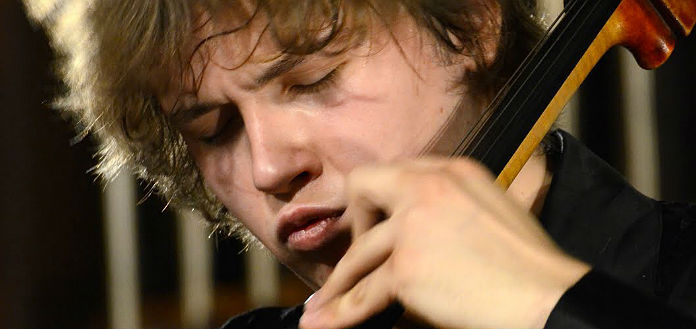 25 year old Belarusian cellist Ivan Karizna is quickly building an international reputation as an emerging young concert artist of outstanding potential.
A student of Frans Helmerson at the Kronberg Academy, Ivan is a former major prize winner at the Tchaikovsky, Umanitaria, Suggia and Luis Sigall International Cello Competitions – and in June of this year, he was awarded 5th and Audience prize at the inaugural Queen Elisabeth International Cello Competition, in Belgium.
His recent performances include solo engagements with the Moscow Virtuosi, Mariinsky Theatre Symphony, Saint Petersburg Philharmonic, Orchestre Philharmonique de Strasbourg and the Slovenian Radio Symphony Orchestra.
https://www.youtube.com/watch?t=1044s&v=x1feOjkZMs4
IVAN KARIZNA | HAYDN | CELLO CONCERTO NO. 1 IN C MAJOR | FRANK BRALEY & L'ORCHESTRE ROYAL DE CHAMBRE DE WALLONIE | 2017 QUEEN ELISABETH INTERNATIONAL CELLO COMPETITION
https://www.youtube.com/watch?t=871s&v=iv4Dj5UzpaI
IVAN KARIZNA | SHOSTAKOVICH | CELLO CONCERTO NO. 1 | STÉPHANE DENÈVE & BRUSSELS PHILHARMONIC | 2017 QUEEN ELISABETH INTERNATIONAL CELLO COMPETITION
IVAN KARIZNA | SHCHEDRIN | NOT LOVE ALONE | QUADRILLE | VALERY GERGIEV & MARIINSKY THEATRE SYMPHONY ORCHESTRA | 2013
IVAN KARIZNA | TCHAIKOVSKY | VARIATIONS ON A ROCOCO THEME | MIKHAIL AGREST & STATE ACADEMIC SYMPHONY ORCHESTRA OF THE RUSSIAN FEDERATION 
https://m.youtube.com/watch?v=8pPk3mBMnMo
IVAN KARIZNA | TOSHIO HOSOKAWA | SUBLIMATION | 2017 QUEEN ELISABETH INTERNATIONAL CELLO COMPETITION
IVAN KARIZNA | JEROME DUCROS | ENCORE | 2011 INTERNATIONAL TCHAIKOVSKY COMPETITION 
IVAN KARIZNA & KARINE SELO | TCHAIKOVSKY | NOCTURNE, OP. 19 NO. 4 
IVAN KARIZNA | BACH | CELLO SUITE NO. 6 | GIGUE | 2011 INTERNATIONAL TCHAIKOVSKY COMPETITION
Name: Ivan Karizna
Cello: 1867 Gand & Bernardel, Paris
Bow: 1937 Jules Fetique, Paris 
Teacher: Frans Helmerson | Jerome Pernoo | Vladimir Perlin