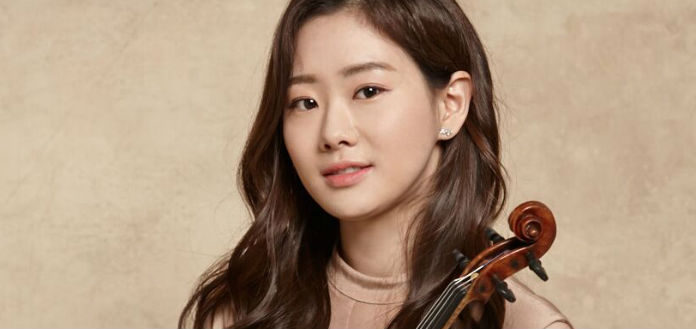 25 year old South Korean violinist Ji Won Song is quickly building an international reputation as an emerging young concert artist of outstanding potential.
A graduate of the Curtis Institute of Music and the New England Conservatory, and current Artist Diploma student of Ida Kavafian and Donald Weilerstein at The Juilliard School, Ji Won is a former 1st prize winner at the Leopold Mozart, China and the Alice & Eleonore Schoenfeld International Violin Competitions, former major prize winner at the Menuhin Competition and the Tibor Varga International Violin Competition Sion Valais – and earlier this month, was awarded 1st prize at the 2017 IsangYun International Violin Competition, in South Korea.
Her recent performances include solo appearances with the Philadelphia Orchestra, Seoul Philharmonic Orchestra, Shanghai Symphony Orchestra, Montreal Symphony Orchestra and the Munich Radio Orchestra. 
JI WON SONG | SIBELIUS VIOLIN CONCERTO | CHRIOSTOPH POPPEN & TONGYEONG FESTIVAL ORCHESTRA  | 2017 ISANGYUN INTERNATIONAL VIOLIN COMPETITION | 1ST PRIZE
JI WON SONG & FRANCIS PERRON | BEETHOVEN | VIOLIN SONATA FOR NO. 7 IN C MINOR | 2016 MONTREAL INTERNATIONAL VIOLIN COMPETITION
JI WON SONG & FRANCIS PERRON | WIENIAWSKI | FANTASIA ON THEMES FROM GOUNOD'S 'FAUST' | 2016 MONTREAL INTERNATIONAL VIOLIN COMPETITION 
JI WON SONG | TCHAKOVSKY VIOLIN CONCERTO | GIANCARLO GUERRERO & MONTREAL SYMPHONY | 2016 MONTREAL INTERNATIONAL VIOLIN COMPETITION
JI WON SONG | HE ZHANHAO & CHEN GANG | THE BUTTERFLY LOVERS CONCERTO | SEOUL VIRTUOSI CHAMBER ORCHESTRA | 2016
JI WON SONG & SOYOU HONG | BEETHOVEN | VIOLIN SONATA NO. 4 IN A MINOR | 1ST MVT 
JI WON SONG & SOYOU HONG | KREISLER | RONDINO ON A THEME BY BEETHOVEN 
Name: Ji Won Song
Violin: 1780 Giovanni Battista Guadagnini 
Bow: Eugene Sartory
Strings: Pirastro – Evah Pirazzi G, D & A | Pirastro – Universal No. 1 E 
Accessories: Pirastro – Gold Rosin | Kun – Bravo Shoulder Rest
Teachers: Ida Kavafian | Donald Weilerstein
School: Curtis Institute of Music | New England Conservatory | The Juilliard School
Facebook: www.facebook.com/jiwon.song
Website: www.jiwonsong.com
Comments
comments