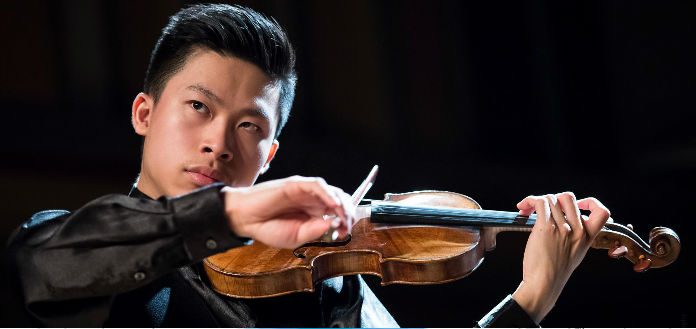 20 year old Canadian violinist Kerson Leong is building an international reputation as a rising young virtuoso of outstanding potential – acclaimed for his commanding stage presence, tone and musical integrity.
An Artist-in-Residence at the Queen Elisabeth Music Chapel in Belgium, mentored by Augustin Dumay, Kerson is a former Junior 1st prize winner at the Menuhin Competition – and was awarded the prestigious Grand Prize at the 2014 Canadian Stepping Stone Competition, the 2015 Radios Francophones Publiques 'Young Soloist Prize' and the Canadian National Arts Centre Orchestra Bursary.
His recent debuts include solo performances with the Stavanger Symphony Orchestra, the Kansai Philharmonic Orchestra, the Royal Philharmonic Orchestra, the Gulbenkian Orchestra, the l'Orchestre symphonique de Montréal – and in January 2018, he will perform his first solo engagement with the Stockton Symphony Orchestra.
Kerson currently performs in a 1728 Guarneri del Gesu violin – on generous loan from the Canimex Inc.
KERSON LEONG & LOUIS LORTIE | BEETHOVEN | SONATA NO. 4 FOR VIOLIN & PIANO IN A MINOR, OP. 23 | 2017
KERSON LEONG | KHACHATURIAN VIOLIN CONCERTO | PETER JAFFE & FOLSOM LAKE SYMPHONY | 2016
KERSON LEONG & TIMO KOSKINEN | MOZART | RONDO IN C MAJOR | 2015 SIBELIUS INTERNATIONAL VIOLIN COMPETITION
KERSON LEONG | BACH | SONATA NO. 2 FOR SOLO VIOLIN, BWV 1003 | ANDANTE & ALLEGRO | 2015 SIBELIUS INTERNATIONAL VIOLIN COMPETITION
KERSON LEONG & TIMO KOSKINEN | SIBELIUS | SOUVENIR OP. 79, NO. 1 | 2015 SIBELIUS INTERNATIONAL VIOLIN COMPETITION
KERSON LEONG & TIMO KOSKINEN | BRAHMS | SONATA NO. 3 FOR VIOLIN & PIANO | 2015 SIBELIUS INTERNATIONAL VIOLIN COMPETITION
KERSON LEONG | FRANCISCO TARREGA (ARR. RUGGIERO RICCI) | RECUERDOS DE LA ALHAMBRA | 2016
Name: Kerson Leong
Violin: c. 1728 Guarneri del Gesu
Bow: Francois Peccatte and Francois Malo (Montreal)
Accessories: Andrea Rosin | Foam Cushion (in Place of a Shoulder Rest) | Custom Molded Earplugs | Musafia Master Series Dart Case
Teacher: Augustin Dumay
PHOTO CREDIT: MICHEL COOREMAN
Comments
comments