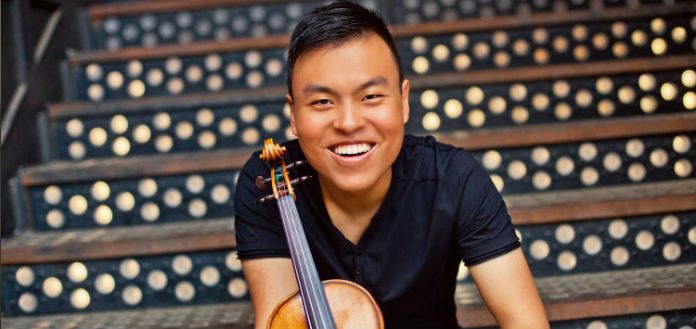 26 year old Chinese-American violinist Luke Hsu is building an international reputation as a rising young virtuoso of outstanding potential.
A graduate of the Shepherd School of Music at Rice University and the New England Conservatory, where he studied with Cho-Liang Lin and Donald Weilerstein, Luke is a former major prize winner at the Isangyun, Michael Hill, Carl Nielsen and Wieniawski International Violin Competitions.
His recent debuts include solo performances with the Houston Symphony, Dallas Symphony, Auckland Philharmonia, Odense Symphony, Poznan Philharmonic and the Victoria Symphony.
He is currently completing graduate studies at London's Royal Academy of Music with violinist Rodney Friend.
LUKE HSU | SIBELIUS VIOLIN CONCERTO | 3RD MVT | GIORDANO BELLINCAMPI & THE AUCKLAND PHILHARMONIA | 2017 MICHAEL HILL INTERNATIONAL VIOLIN COMPETITION
LUKE HSU | MOZART | QUINTET IN G MINOR, K 516 | 2017 MICHAEL HILL INTERNATIONAL VIOLIN COMPETITION | CHAMBER MUSIC PRIZE
LUKE HSU | PAGANINI | CAPRICE NO. 11 | 2017 MICHAEL HILL INTERNATIONAL VIOLIN COMPETITION
LUKE HSU & HANNA HOLEKSA | KREISLER | TAMBOURIN CHINOIS | 2016 INTERNATIONAL HENRYK WIENIAWSKI VIOLIN COMPETITION 
LUKE HSU & HANNA HOLEKSA | SCHUMANN | SONATA NO. 2 FOR VIOLIN AND PIANO IN D MINOR | 3RD & 4TH MVTS | 2016 INTERNATIONAL HENRYK WIENIAWSKI VIOLIN COMPETITION
LUKE HSU & KATARZYNA BUDNIK-GALAZKA | MOZART | SINFONIA CONCERTANTE IN E FLAT MAJOR | 1ST MVT | 2016 INTERNATIONAL HENRYK WIENIAWSKI VIOLIN COMPETITION 
LUKE HSU | LALO | SYMPHONIE ESPAGNOLE | HUGH WOLFF & NEW ENGLAND CONSERATORY PHILHARMONIA | 2016
LUKE HS, MARTHE HUSUM, ANA KIM, SOPHIE SCOLNIK-BROWER | BRAHMS | PIANO QUARTET NO. 1 IN G MINOR | 2016
LUKE HSU | PAGANINI | CAPRICE NO. 7 | 2015
Name: Luke Hsu
Violin: ex-Parma Guadagnini
Teacher: Rodney Friend | Cho-Liang Lin | Donald Weilerstein
Comments
comments