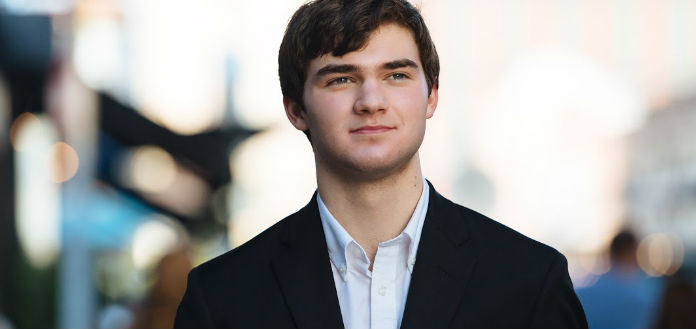 18-year-old American violinist Nathan Meltzer is quickly building an international reputation as a rising young virtuoso of outstanding potential.
A student of Itzhak Perlman and Li Lin at The Juilliard School, Nathan was awarded 1st prize at the 2017 Windsor Festival International String Competition, in the United Kingdom – aged just 16.
His recent debuts include solo engagements with the Orchestre national d'Île-de-France, Orquesta Filarmónica de Medellín, Philharmonia Orchestra, Indianapolis Symphony Orchestra, Pittsburgh Symphony, and the Orquesta Sinfónica Concepción.  
Upcoming engagements include performances at the Heidelberger Frühling, ChamberFestCleveland and the Moritzberg Festival – and recitals in London and Chile.
VC YOUNG ARTIST NATHAN MELTZER & JUN CHO | KHACHATURIAN VIOLIN CONCERTO IN D MINOR | 1ST MVT | 2018
VC YOUNG ARTIST NATHAN MELTZER & JUN CHO | KHACHATURIAN VIOLIN CONCERTO IN D MINOR | 2ND MVT | 2018
VC YOUNG ARTIST NATHAN MELTZER & JUN CHO | KHACHATURIAN VIOLIN CONCERTO IN D MINOR | 3RD MVT | 2018
VC YOUNG ARTIST NATHAN MELTZER | PAGANINI | CAPRICE NO. 2 IN B MINOR | 2018
VC YOUNG ARTIST NATHAN MELTZER | BACH | SOLO PARTITA NO. 3 IN E MAJOR | 2018
VC YOUNG ARTIST NATHAN MELTZER & JUN CHO | MOZART VIOLIN SONATA NO. 21 IN E MINOR | 1ST MVT | 2018
VC YOUNG ARTIST NATHAN MELTZER & JUN CHO | MOZART VIOLIN SONATA NO. 21 IN E MINOR | 2ND MVT | 2018
VC YOUNG ARTIST NATHAN MELTZER | CHAUSSON | POÈME | KYUNGHUN KIM & ENSEMBLE 212 | 2017
VC YOUNG ARTIST NATHAN MELTZER & SIMON LANE | WAXMAN | CARMEN FANTASY | 2017 WINDSOR FESTIVAL INTERNATIONAL STRING COMPETITION
VC YOUNG ARTIST NATHAN MELTZER & SIMON LANE | BEETHOVEN | VIOLIN SONATA NO. 7 IN C MINOR | 2ND & 3RD MVTS | 2017 WINDSOR FESTIVAL INTERNATIONAL STRING COMPETITION
NATHAN MELTZER & HIROMI FUKUDA | PAGANINI VIOLIN CONCERTO NO. 1 IN D MAJOR | 1ST MVT | 2016 
Name: Nathan Meltzer
Violin: 1734 Ames/Totenberg Stradivari violin – On generous loan from the Rare Violins of New York InConsortium
Bow: Ron Forrester – On generous loan from the Rare Violins of New York InConsortium 
Strings: Thomastik Peter Infeld G, D & A | Jargar E
Teachers: Itzhak Perlman | Li Lin
PHOTO CREDIT: Jiyang Chen 
Comments
comments