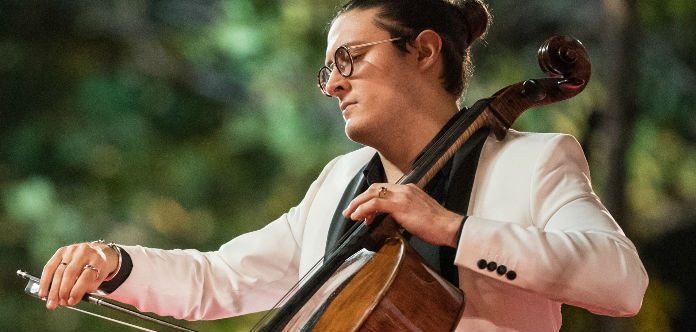 23-year-old Colombian cellist Santiago Cañón-Valencia is quickly building an international reputation as an emerging young concert artist of outstanding potential.
A student of Wolfgang Emanuel Schmidt at the Kronberg Academy, Santiago is a former major prize winner at the Sphinx Competition and the Casals, Cassadó, Beijing, Prieto and Queen Elisabeth International Cello Competitions.
His recent debuts include solo engagements with the Brussels Philharmonic, Hungarian Radio Symphony Orchestra, Moscow Soloists, Orchestre Royal de Chambre de Wallonie, Orpheus Chamber Orchestra, Münchener Kammerorchester, St Petersburg Symphony Orchestra, Ontario Philharmonic and the Antwerp Symphony.
VC YOUNG ARTIST SANTIAGO CAÑÓN-VALENCIA | ELGAR | CELLO CONCERTO IN E MINOR | MUHAI TANG & ANTWERP SYMPHONY ORCHESTRA | 2017 
VC YOUNG ARTIST SANTIAGO CAÑÓN-VALENCIA | HAYDN | CELLO CONCERTO NO. 1 IN C MAJOR | FRANK BRALEY & ORCHESTRE ROYAL DE CHAMBRE DE WALLONIE | 2017 QUEEN ELISABETH INTERNATIONAL CELLO COMPETITION
VC YOUNG ARTIST SANTIAGO CAÑÓN – VALENCIA | BOTTERMUND-STARKER | VARIATIONS ON A THEME OF PAGANINI | 2017 QUEEN ELISABETH INTERNATIONAL CELLO COMPETITION
VC YOUNG ARTIST SANTIAGO CAÑÓN-VALENCIA & NAOKO SONODA | SHOSTAKOVICH | CELLO SONATA IN D MINOR | 2017 QUEEN ELISABETH INTERNATIONAL CELLO COMPETITION 
VC YOUNG ARTIST SANTIAGO CAÑÓN-VALENCIA | GASPAR CASSADÓ | SUITE FOR CELLO SOLO | 2017 
VC YOUNG ARTIST SANTIAGO CAÑÓN-VALENCIA & NAOKO SONODA | BEETHOVEN | 7 VARIATIONS ON 'BEI MÄNNERN WELCHE LIEBE FÜHLEN' | 2017 
VC YOUNG ARTIST SANTIAGO CAÑÓN-VALENCIA & NAOKO SONODA | GINASTERA | PAMPEANA NO. 2, RHAPSODY FOR CELLO & PIANO  | 2017 
VC YOUNG ARTIST SANTIAGO CAÑÓN-VALENCIA | BACH | CELLO SUITE NO. 6 IN D MAJOR, BWV 1012 | PRELUDE, SARABANDE, GIGUE | 2016 
VC YOUNG ARTIST SANTIAGO CAÑÓN-VALENCIA | PIATTI | CAPRICE NO. 12 | 2016 
VC YOUNG ARTIST SANTIAGO CAÑÓN-VALENCIA | PAGANINI | CAPRICE NO. 24 | 2014
VC YOUNG ARTIST SANTIAGO CAÑÓN – VALENCIA | GINASTERA | CELLO CONCERTO NO. 2 | CARLOS IZCARAY & ORQUESTA SINFONICA NACIONAL DE COLOMBIA | 2016
Name:  Santiago Cañón – Valencia
Cello: Wagne Burak Modern Cello | 2005 Jan Pawlikowski Modern Cello
Bow: Sartory  | 2017 Alessandro Alberi
Accessories: Kenneth Kuo Custom Made Carbon Fibre Tailpiece
Teacher: Wolfgang Emanuel Schmidt
Comments
comments