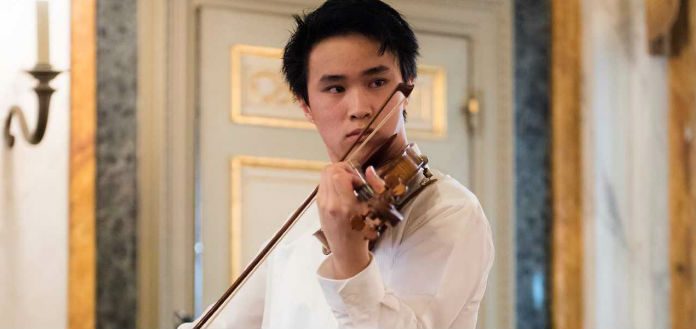 17-year-old American violinist Kevin Zhu is quickly building an impressive international reputation as a prodigious young talent of enormous potential.
A student of Itzhak Perlman and Li Lin at The Juilliard School, Kevin shot to international fame, aged just 11, after claiming 1st Prize in the Junior Division of the 2012 Menuhin Competition – and was recently awarded 1st prize at the 2018 55th Paganini International Violin Competition, in Genoa, Italy.
His recent debuts include solo performances with the Moscow Virtuosi Orchestra and the Pittsburgh Symphony – and solo recitals in London and New York.
His upcoming engagements include concerto appearances in Sichuan and Guangzhou, China – and solo recitals at the Paganini Genova Festival and a recital series in Italy.
Kevin is a proud recipient of a prestigious Kovner Fellowship from The Juilliard School.
He currently performs on an Andrea Guarneri violin – on generous loan from Florian Leonhard Fine Violins.
VC YOUNG ARTIST KEVIN ZHU | PAGANINI VIOLIN CONCERTO NO. 1 | 

MICHAEL ZLABINGER & ORCHESTRA DEL TEATRO CARLO FELICE | 2018 PAGANINI INTERNATIONAL VIOLIN COMPETITION | 1ST PRIZE | 17 YEARS OLD | TCF WEB TV
VC YOUNG ARTIST KEVIN ZHU 

| BRAHMS VIOLIN CONCERTO | MICHAEL ZLABINGER & ORCHESTRA DEL TEATRO CARLO FELICE | 2018 PAGANINI INTERNATIONAL VIOLIN COMPETITION | 1ST PRIZE | 17 YEARS OLD 

| TCF WEB TV
VC YOUNG ARTIST KEVIN ZHU & JUN CHO | BRAHMS | VIOLIN SONATA NO. 3 IN D MINOR | 2017 | 16 YEARS OLD
VC YOUNG ARTIST KEVIN ZHU & MILES GRABER | WAXMAN | CARMEN FANTASY | 2014 | 14 YEARS OLD
VC YOUNG ARTIST KEVIN ZHU | VIVALDI | THE FOUR SEASONS | SPRING & SUMMER | JOJI HATTORI & VIENNA CHAMBER ORCHESTRA | 2014 | 14 YEARS OLD
VC YOUNG ARTIST KEVIN ZHU & MILES GRABER | SARASATE | ZAPATEADO | 2014 | 14 YEARS OLD
Name: Kevin Zhu
Violin: Andrea Guarneri – on Generous Loan from Florian Leonhard Fine Violins
Bow: Eugène Sartory
Teachers: Itzhak Perlman & Li Lin
PHOTO CREDIT: GIUSI SIGENIPPE LORELLI
Comments
comments