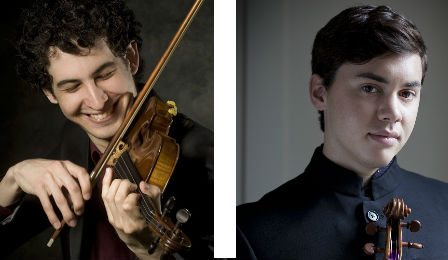 VC 'Young Artists', violinists Itamar Zorman and Benjamin Beilman have been announced among the recipients of the prestigious 2014 Borletti-Buitoni Trust Awards and Fellowships.
28 year old Itamar Zorman, along with the Apollon Musagète Quartet, were awarded £30,000 Awards – whilst 24 year old Benjamin Beilman was awarded a £20,000 Fellowship.
The Borletti-Buitoni Trust, a registered United Kingdom charity, aims to assist outstanding young musicians and ensembles develop and sustain long-term international careers – providing bursaries, career advice, guidance, contacts and valuable public relations exposure.
Israeli-born Zorman, a graduate of the Jerusalem Academy of Music and Dance, The Juilliard School and the Manhattan School of Music, is a former prize winner at the Tchaikovsky and Freiburg International Violin Competitions - and was recently awarded a prestigious 2013 Avery Fisher Career Grant.
American-born Benjamin Beilman is a former 1st prize winner at the Montreal International Violin Competition and the Young Concert Artists International Auditions - and is a former recipient of Avery Fisher and London Music Masters career grants.