Called "Noah's Violin," this vessel was created by Venetian artist Livio De Marchi in collaboration with the Venice Development Consortium as a tribute to those who had passed away from COVID-19.
Last month, the test voyage included a performance by a cellist sitting atop the floating fiddle playing Bach's G major Cello Suite.
After the successful test trip, the floating instrument recently carried a chamber ensemble while sailing on Venice's Grand Canal. The ensemble included violinists Angelica Faccani and Sokol Prekalori, violist Caterina Camozzi, and cellist Tiziana Gasparoni, who performed Vivaldi's "Four Seasons" surrounded by an entourage of gondolas. 
View this post on Instagram
The musicians had to perform barefoot in order to have a better grip while being transported. "Let's just say that between the wind and the waves, it was challenging," said Camozzi. Despite this, "as a Venetian and a musician, it was the most moving experience of my life," added Gasparoni. 
View this post on Instagram
From an interview with the New York Times (NYT), De Marchi named the vessel "Noah's Violin," because like Noah's Ark, it was meant to bring a token of hope after a storm, in this case a message that promoted "art, culture, and music."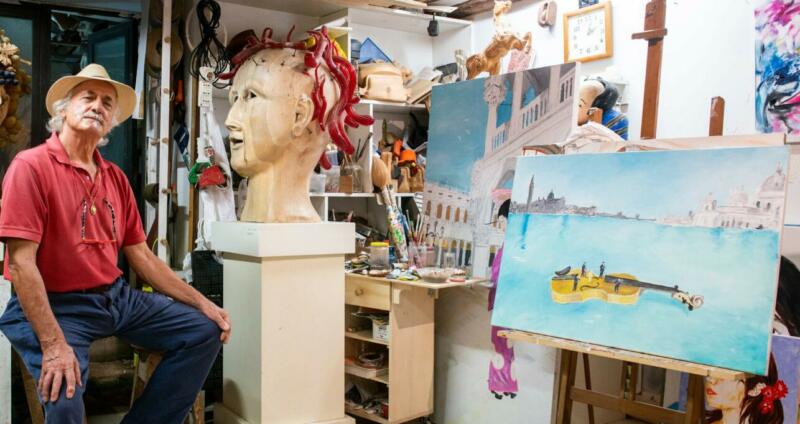 A ceremony was held by members of the consortium and their families and friends after the successful venture. During his speech, De Marchi commemorated the relatives of those who had worked on the violin but had passed away before seeing it finished. 
The consortium's president Leon Zannovello said he hoped Noah's Violin will continue to bring light to Venetian crafts after the difficulties of the pandemic. "I am convinced there will be a return," he said of the floating fiddle.