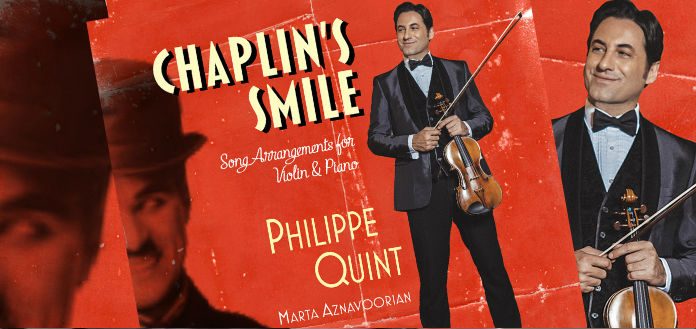 Warner Classics has today announced the release of multiple Grammy Award-nominated violinist Philippe Quint's new album Chaplin's Smile.
Recorded with pianist Marta Aznavoorian and special guest violinist Joshua Bell to celebrate Charlie Chaplin's 130th birthday, the disc features 13 world premiere arrangements of songs from his most popular films - including City Lights, The Great Dictator, The Kid, Limelight and Modern Times.
"This whole idea started with discovering that Charlie Chaplin was the sole composer behind the iconic song 'Smile' … upon researching further, I then discovered that Chaplin was actually a prolific composer who actually wrote most of the music and songs for his films …" Philippe has told The Violin Channel.
"For this new album, my debut on the Warner Classics label, I selected some of Chaplin's best known songs … and put together brand new arrangements of them for violin and piano …" he has said.
"I hope this album touches many hearts ... and in a words of Chaplin himself …'You find that life is still worthwhile, if you just smile." 
Track previews available now on Amazon: