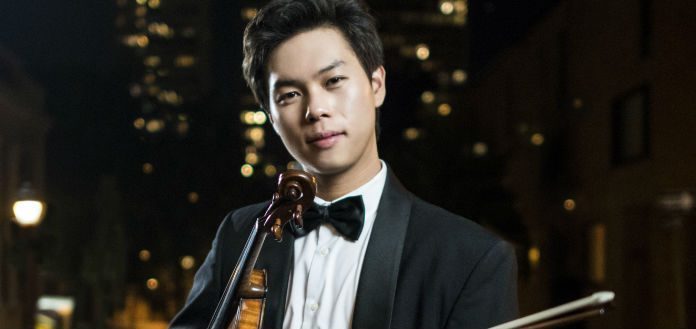 25-year-old Canadian violinist Timothy Chooi has firmly established an international reputation as a young virtuoso of exceptional promise – praised for his maturity, presence and technical prowess.
A graduate of the Curtis Institute of Music, and current student of Catherine Cho at The Juilliard School, Timothy is a former major prize winner at the Michael Hill and Queen Elisabeth International Violin Competitions and the Astral Artists National Auditions – and was awarded 1st prize at the 2018 Joseph Joachim International Violin Competition, in Hannover, Germany.
Timothy was in addition awarded the coveted 'Prix Yves Paternot' Prize at the 2018 Verbier Festival – presented to the 'most accomplished young musician'.
His recent orchestral debuts include solo performances with the Brussels Philharmonic, Toronto Symphony Orchestra, Montreal Symphony, Malaysian Philharmonic, Santa Barbara Symphony, Verbier Festival Chamber Orchestra and Vancouver Symphony Orchestra.
Timothy currently performs on the 1717 'Windsor-Weinstein' Stradivarius violin – on generous loan from the Canada Council for the Arts.
He is represented for worldwide general management by Solea Management, in Paris.
VC ARTIST TIMOTHY CHOOI | TCHAIKOVSKY VIOLIN CONCERTO | HUGH WOLFF & BELGIAN NATIONAL ORCHESTRA | 2019 QUEEN ELISABETH INTERNATIONAL VIOLIN COMPETITION
VC ARTIST TIMOTHY CHOOI | MOZART VIOLIN CONCERTO NO. 5 IN A MAJOR | JEAN-JACQUES KANTOROW & ORCHESTRE ROYAL DE CHAMBRE DE WALLONIE | 2019 QUEEN ELISABETH INTERNATIONAL VIOLIN COMPETITION
VC ARTIST TIMOTHY CHOOI | TCHAIKOVSKY VIOLIN CONCERTO | ANDREW MANZE & NDR RADIOPHILHARMONIE | 2018 JOSEPH JOACHIM INTERNATIONAL VIOLIN COMPETITION | 1ST PRIZE
VC ARTIST TIMOTHY CHOOI & NATSUMI OHNO | BEETHOVEN VIOLIN SONATA NO. 2 OP. 30 | 2018 JOSEPH JOACHIM INTERNATIONAL VIOLIN COMPETITION | 1ST PRIZE
VC ARTIST TIMOTHY CHOOI & TAKASHI SATO | GRIEG VIOLIN SONATA NO. 3 IN C MINOR OP. 45 | 2019 QUEEN ELISABETH INTERNATIONAL VIOLIN COMPETITION
VC ARTIST TIMOTHY CHOOI & HANCHIEN LEE | MONTI | CSÁRDÁS | 2017
VC ARTIST TIMOTHY CHOOI & HELEN GERHOLD | MASSENET | MEDITATION FROM THAÏS | 2017
VC ARTIST TIMOTHY CHOOI | PAGANINI | CAPRICE NO. 24 | 2018
VC ARTIST TIMOTHY CHOOI, JANELLE FUNG & HANCHIEN LEE | RACHMANINOFF | VOCALISE | 2017 
Name: Timothy Chooi
Instrument: 1717 Windsor-Weinstein Stradivarius violin  – On generous loan from the Canada Council for the Arts
Bow: 2011 Michael Vann 
Teachers: Catherine Cho | Pamela Frank | Ida Kavafian | Pinchas Zukerman | Patinka Kopec
Comments
comments