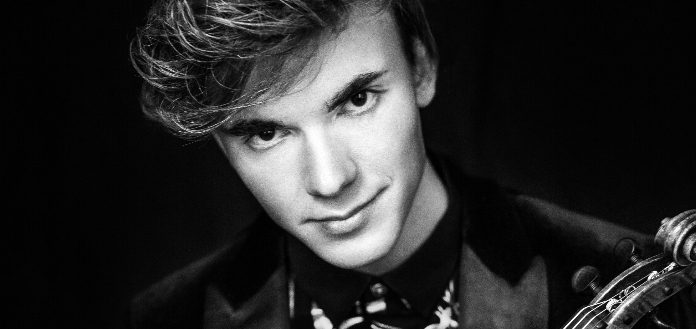 28-year-old Russian violin virtuoso, Yury Revich is building an international reputation as one of the new generation's most outstanding and innovative young string soloists.
A graduate of the Central Music School of the Moscow Conservatory and the Vienna Conservatory where he studied with Galina Turchaninova, Viktor Pikaizen and Pavel Vernikov, Yury is a former winner of the ECHO Klassik 'Newcomer of the Year' award, the International Classical Music Awards' 'Young Artist of the Year' accolade - and the Beethoven Center Vienna's 'Young Musician of the Year' prize.
His recent solo engagements include performances with the Russian National Orchestra, Royal Philharmonic Orchestra, Collegium Musicum Basel, Tonkünstler, Moscow Soloists, Russian State Symphony, La Verdi Milano, Deutsche Staatsphilharmonie Rheinland-Pfalz, Zagreb Soloists, Nord West Deutsche Philharmonie, KKO and Kammerphilharmonie Potsdam.
His upcoming engagements include performances with the Cape Town Philharmonic, Firebird Orchestra, Luxembourg Philharmonie and the Lecce Philharmonic Orchestra - and in October of this year, he will be perform the world premiere of his own new arrangement of the '24 Caprices' by Paganini for Violin and Orchestra.
Yury currently performs on a 1709 Stradivarius violin – on generous loan from the Goh Family Foundation.
VC ARTIST YURY REVICH | MISSION PAGANINI | 2019
VC ARTIST YURY REVICH | VIVALDI | THE FOUR SEASONS | SUMMER "THE STORM" | 2019
VC ARTIST YURY REVICH | TCHAIKOVSKY | 'RUSSIAN DANCE' FROM 'SWAN LAKE' | 2019
VC ARTIST YURY REVICH | ROMBERG RONDO ALLEGRETTO D MINOR | 2016
VC ARTIST YURY REVICH | PAGANINI VIOLIN CONCERTO NO. 2 IN B MINOR | "LA CAMPANELLA" | TOKYO NEW CITY ORCHESTRA | 2014
VC ARTIST YURY REVICH | MENDELSSOHN VIOLIN CONCERTO IN D MINOR | ZAGREB SOLOISTS | 2017
VC ARTIST YURY REVICH | MELANI MESTRE | VIOLINTANGO CONCERTO | 3RD MVT | ENSEMBLE ESPERANZA | 2017
VC ARTIST YURY REVICH & NATALIJA MLADENOVIC | VIEUXTEMPS | YANKEE DOODLE | 2014
VC ARTIST YURY REVICH & NATALIJA MLADENOVIC | MANUEL DE FALLA | DANZA ESPAÑOLA NO. 1 DE "LA VIDA BREVE" | 2014
VC ARTIST YURY REVICH & NATALIJA MLADENOVIC | DEBUSSY | CLAIRE DE LUNE | 2014
Name: Yury Revich
Violin: 1709 Stradivarius violin – On generous loan from the Goh Family Foundation
Bow: L. Gillet
Strings:

Jargar
Teacher: Galina Turchaninova

| Viktor Pikaizen | Pavel Vernikov | Alexander Revich
School: Central Music School of the Moscow Conservatory | Vienna Conservatory
PHOTO CREDIT: ELISABETH GATTERBURG