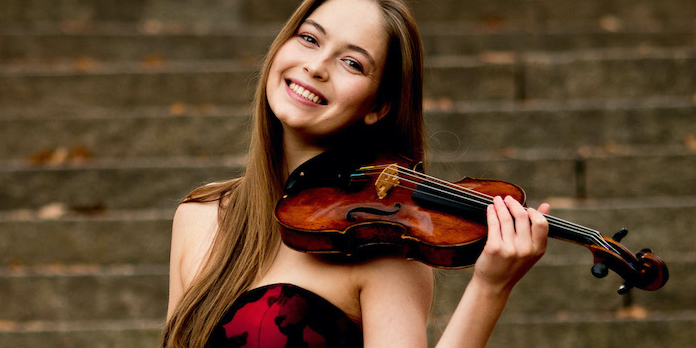 A current Artist Diploma student of Miriam Fried at the New England Conservatory of Music, Geneva is a former winner at the Concert Artists Guild Victor Elmaleh Competition, NEC Concerto Competition, and Fischoff National Chamber Music Competition.
She has made debuts with ensembles such as the Pasadena Symphony, Symphony NH, Diablo Symphony Orchestra, Culver City Symphony, Sierra Summer Festival Orchestra, Brentwood Westwood Symphony Orchestra, Antelope Valley Symphony Orchestra, and the Pasadena Pops.
Geneva currently performs on a c. 1770 Zosimo Bergonzi violin on generous loan from the Guarneri Hall NFP and Darnton & Hersh Fine Violins, Chicago.
VC YOUNG ARTIST GENEVA LEWIS & NATHAN LEWIS | FLORENCE PRICE | ADORATION (ARR. ELAINE FINE) | 2020
VC YOUNG ARTIST GENEVA LEWIS | TELEMANN | FANTASIA NO. 7 IN E-FLAT MAJOR |  2020
VC YOUNG ARTIST GENEVA LEWIS & DINA VAINSHTEIN | SCHOENFIELD | FOUR SOUVENIRS | "TIN PAN ALLEY" | 2020
VC YOUNG ARTIST GENEVA LEWIS & SAHUN SAM HONG | LILI BOULANGER | NOCTURNE | 2020
VC YOUNG ARTIST GENEVA LEWIS & DINA VAINSHTEIN | BARTOK | VIOLIN SONATA NO. 1 | 2020
VC YOUNG ARTIST GENEVA LEWIS & NATHAN LEWIS | WILLIAM BOLCOM | GRACEFUL GHOST RAG | 2020
VC YOUNG ARTIST GENEVA LEWIS & DINA VAINSHTEIN | YSAŸE | POEME ELEGIAQUE | 2020
VC YOUNG ARTIST GENEVA LEWIS | GARETH FARR | WAKATIPU | 2020
VC YOUNG ARTIST GENEVA LEWIS & MOTTI FANG-BENTOV | CLARA SCHUMANN | 3 ROMANCES | 2020
Violin: C. 1770 Zosimo Bergonzi violin on generous loan from the Guarneri Hall NFP and Darnton & Hersh Fine Violins, Chicago
Strings: Dominant A, D, G, Jargar Forte E
Accessories: Kun Bravo Shoulder Rest
Teachers: Miriam Fried | Aimee Kreston
Schools: New England Conservatory
Website: www.genevalewisviolinist.com
Instagram: @genevalauren
Facebook: @genevalewisviolin