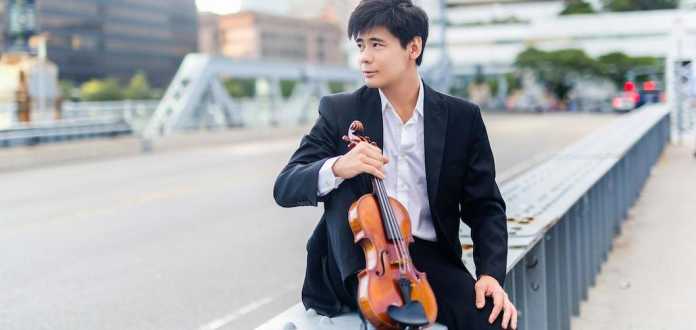 Chinese violin virtuoso Angelo Xiang Yu is quickly building an international reputation as one of today's most exciting and gifted young concert artists – praised for his maturity and profound musicality.
A recent graduate of the New England Conservatory, where he studied with Donald Weilerstein, Miriam Fried and Kim Kashkashian, Angelo is a former prize winner at the Michael Hill and Wieniawski International Violin Competitions – and former 1st prize winner at the Menuhin Competition.
ANGELO XIANG YU & DINA VAINSHTEIN | SCHUBERT | FANTASY IN C MAJOR, D. 934 | 2014
Angelo's recent orchestral engagements include appearances with the Pittsburgh and Houston Symphonies, Auckland Philharmonia, Munich Chamber Orchestra and Oslo Philharmonic Orchestra.
During the 15/16 season, he will make debuts with 11 orchestras –  including Toronto, Vancouver, North Carolina, Alabama and Charlotte Symphony Orchestras.
ANGELO XIANG YU | PROKOFIEV | VIOLIN CONCERTO NO. 1 | HUGH WOLFF & NEC PHIL | 2014
ANGELO XIANG YU | BACH | CHACONNE FROM PARTITA NO. 2 IN D MINOR, BWV 1004 | 2013
ANGELO XIANG YU & MEI RUI | BEETHOVEN | SONATA FOR VIOLIN & PIANO NO. 9, OP. 47 'KREUTZER' | 1ST MVT | 2013
ANGELO XIANG YU & QING JIANG | RAVEL | TZIGANE | 2015
ANGELO XIANG YU | BEETHOVEN | VIOLIN CONCERTO | 2ND MVT | COURTNEY LEWIS & DISCOVERY ENSEMBLE
ANGELO XIANG YU & QING JIANG | MOZART | RONDO IN C MAJOR | 2015
ANGELO XIANG YU & MEI RUI | CHAUSSON | POEME, OP. 25 | 2013
ANGELO XIANG YU & DAVID MEIER | SZYMANOWSKI | NOCTURNE & TARANTELLA | 2010 MENUHIN INTERNATIONAL VIOLIN COMPETITION | 1ST PRIZE
ANGELO XIANG YU | BRUCH | VIOLIN CONCERTO NO. 1 | 2ND MVT | EIVIND AADLAND & NORWEGIAN BROADCASTING ORCHESTRA
ANGELO XIANG YU | PROKOFIEV | VIOLIN CONCERTO NO. 2 | 3RD MVT | MARCUS LEHTINEN & NORWEGIAN BROADCASTING ORCHESTRA | 2010 MENUHIN INTERNATIONAL VIOLIN COMPETITION | 1ST PRIZE
Name: Angelo Xiang Yu
Teachers: Donald Weilerstein, Miriam Fried, Kim Kashkashian
Comments
comments