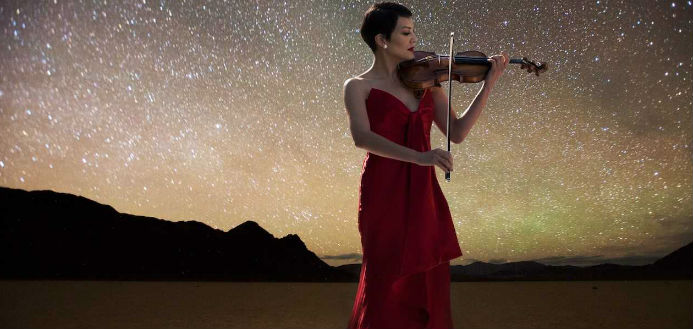 VC recently caught up with American violinist Anne Akiko Meyers - ahead of her upcoming world premiere performances on February 10th and 11th of Adam Schoenberg's Violin Concerto "Orchard in Fog" - with conductor Sameer Patel and the San Diego Symphony.
In a VC-exclusive blog, Anne Akiko shares her tips and insights for premiering a newly commissioned work.
"Preparing a premiere is very collaborative with the composer and conductor while learning an established piece of standard repertoire involves lots of traditional practice in an established style. The difference is pretty extreme, and with a new work, many choices are completely up to you, the performer, to get all the pieces of the puzzle in order, find the soul of the piece and play it with feeling and depth.
I love that there is a blank canvas with new music interpretation, and thrive on the challenges that a first performance brings. Collaborating with the composer on the pacing, dynamics, tempi, revisions and learning the back-story is extremely important and valuable.
I will never forget hearing John Corigliano say, "Anne, make sure to use a mute throughout!" when playing his work, "Lullaby for Natalie", at his home (John later revised this in the recording studio). I always ask myself, what if Ravel, Chopin or Rachmaninoff were around-how I would harass them to the ends of the earth to write more for the violin! I find working on new music greatly informs the traditional repertoire and helps my mind feel more pliable and expansive in finding different color and violin techniques to utilize.
I am about to give the world premiere of Adam Schoenberg's first violin concerto, entitled "Orchard in Fog" with the San Diego Symphony. We spoke about the idea of writing a new concerto several years ago and I received the score about 2 months ago in anticipation of the world premiere on February 11th, 2018. When I looked through the first movement, I was incredibly surprised that he wrote the concerto with F, D, A, E strings in mind instead of the usual, G, D, A, E. As I had never in my life played scordatura, I wondered how this was supposed to work. I tackled the first movement, trying to understand the concept and find the soul of the piece, and learned from Adam that it is a moving story of an older person looking back on their life when they are reminiscing at the precipice of a foggy orchard. Just when I thought I had figured the first movement out, he sent the second. Adam decided to continue the scordatura throughout the rest of the concerto. Gulp.
The second movement is very challenging with a dance-like groove pulsating and double-stop chords throughout. This took a little more time to conquer but once faced with a challenge, I love to get to the bottom of it and give it my all. You feel a bit like a forensics specialist-how did the crime occur? What can you do to figure it out quickly and efficiently? Once, when I was preparing to perform and record "Fratres " by Arvo Pärt, I practiced the opening cadenza like a crazy person, trying to get the tempo as marked. As I played it in front of him, very proud of myself for almost reaching the indicated tempo, he turned to me and said, "Anne Akiko…why do you play it so fast?". I almost melted into a puddle right there and said, "I am trying to follow your markings!" and he said, "Oh, but why? No, no, no…." What a valuable lesson that was! Even the composers are not wedded to every tempo marking or marking they might have written a long time ago, or even yesterday. It is up to the performer to feel and convey the music the way they imagine it.
Learning a new concerto or an established concert work requires patient and mindful practice. I find it helpful to go slowly and eventually work with a midi sampling, practice with a piano reduction of the score or listen to a recording of a concert work I haven't yet performed. I always find it fun and challenging to add to my repertoire, but especially new premieres so future violinists won't wonder why performers in our era didn't harass Mason Bates or Adam Schoenberg for a new concerto!
-Anne Akiko" 
Anne Akiko Meyers will give the world premiere performance of Adam Schoenberg's Violin Concerto "Orchard in Fog" on February 10th and 11th - with conductor Sameer Patel and the San Diego Symphony at San Diego's Copley Symphony Hall | The new work will be streamed live and exclusively on a Violin Channel Facebook VC LIVE on February 11th at 2pm (EST)