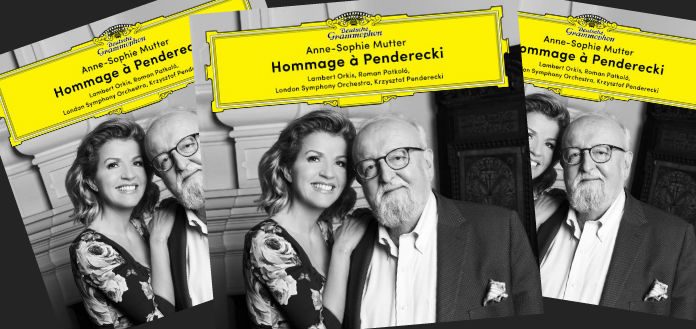 Deutsche Grammophon has announced the release of superstar violinist Anne-Sophie Mutter's new album: Hommage à Penderecki.
Recorded with composer and conductor Krzysztof Penderecki, pianist and double bassist Lambert Orkis and Roman Patkoló and the London Symphony Orchestra, the 2 disc set features Penderecki's La Follia for Solo Violin, Duo Concertante for Violin & Double Bass, 2nd Violin Sonata and 2nd Violin Concerto 'Metamorphosen'.
"The inspiration for this homage to Krzysztof Penderecki is my lifelong love and admiration for a composer who for decades has touched the world with his music … " Anne-Sophie has told The Violin Channel.
"I'm blessed to work so closely with this genius who has dedicated four extraordinary musical pieces to me …" she has said.
"I want to share these treasures with you all because they will bring you deep into Penderecki's world of musical language … I hope you will follow me in falling in love with this composer and his music."