Cartlidge succeeds Stephen King in the role, who played with the Australian String Quartet (ASQ) from 2012 to 2021. King continues to be involved with the ASQ in his position as its Director of Learning and Engagement. 
Having studied on a full scholarship at the Australian National Academy of Music and the Tasmanian Conservatorium of Music, Cartlidge was the recipient of many awards including University of Tasmania's Director's Prize and Dean's Roll of Excellence. 
He is a founding member of the Melbourne Ensemble and was a grand-finalist and multiple prize-winner in the 2015 ABC Symphony Australia Young Performers Awards.
In 2011, he became a full-time member of the Melbourne Symphony Orchestra (MSO), and in 2019, was appointed Associate Principal Viola. Solo appearances included those with the MSO and the Tasmanian Symphony Orchestra (TSO).
The other members of the ASQ include violinists Dale Barltrop and Francesca Hiew, and cellist Michael Dahlenburg. The ensemble plays on a matched set of 18th century Guadagnini instruments, on loan exclusively from UKARIA.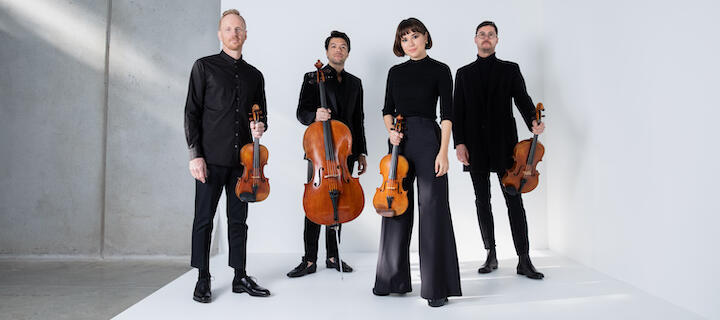 "I am thrilled to be joining the ASQ as its new violist," said Cartlidge. "For me, this is a new frontier to be explored: to express myself in new ways; to be a better musician; violist; and communicator. I can't wait to see what the future holds."
"Dale Barltrop and I met about ten years ago and have been working closely together as part of the MSO for many years now," Cartlidge told Limelight Magazine. "I have also been friends with Francesca Hiew and Michael Dahlenburg for many years and all four of us have played a lot of chamber music together over the years in various settings and various places.
"As for my journey with the ASQ, it all started with a surprise phone call from Francesca inviting me to come and work as a guest violist with the quartet and it has developed from there."
"Michael, Dale and I are extremely excited to welcome Christopher as our new violist!" Hiew enthused. "Chris is an exceptional musician and dear friend who we all have had the privilege of working alongside in various ensembles for over a decade."
"Chris's time as guest violist with the ASQ at the beginning of the year revealed a natural musical affinity that we look forward to sharing with our audiences around the world."
"We are excited for Chris to be joining the prestigious ASQ in his new role. While we are sad that he is leaving the MSO family after 10 years with us, we continue to work closely with ASQ and know we will see Chris on our stage from time to time in the future," said Sophie Galaise, Managing Director of the MSO.