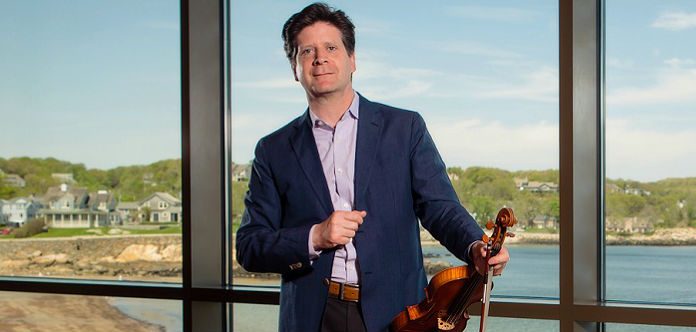 The Violin Channel recently caught up with the newly-appointed Rockport Chamber Music Festival Artistic Director, former long time St. Lawrence String Quartet violinist, Mr Barry Shiffman. 
The Rockport Music Festival will run from the 15th of June until the 15th of July at the Shalin Liu Performance Center in Rockport, Massachusetts, United States - and will feature chamber music programmes by leading international artists including violinist James Ehnes, the Pinchas Zukerman Trio, Emerson Quartet, Brentano Quartet, pianists Stephen Prutsman and Yekwon Sunwoo - and VC Artists Dover and Attacca String Quartets.
How did this amazing new opportunity come to you to work with the famed Rockport Music Festival?
"Whilst playing with the St Lawrence Quartet for 17 seasons, we recorded and travelled all over the world, and I developed a great interest and passion in the creation of projects and programs.
When this amazing opportunity came up, I thought ... why not?
I am absolutely thrilled to lead this remarkable 5 week festival ... it's an incredible journey, honor and treat to be building on something that is already doing so well."
What is the process for putting a festival such as this together?
"My best piece of advice for anyone creating a festival is ... just start by listening ... listen to what the local community is telling you ... when you speak to people you hear what the festival means to them ... and everything just naturally builds up from there."
What are your goals for this year's festival?
"My first priority with this year's festival is to interact and engage our Rockport community. 
As such, we've organized a number of free family and community concerts - including a performance by the wonderful Dover Quartet specifically for people with autism and their families.
My second focus is on investment and innovation - to make the festival a part of the entire ecosystem of creativity and to identify projects that need support.
And my last pillar is that of artistic excellence in everything we do."
How does a chamber music festival differ compared to an in season solo or chamber music performance? 
"A festival is about connecting more directly with the audience ... more directly with the staff ... with the supporters ... with the funders.
It's a different experience than the one night stand, which is what happens so often in the regular performance season."
Do you think it is a valuable skill for young performers to be able to create their own festival performance opportunities?
"I think it is a hugely valuable skill ... the classical music world is undergoing a traumatic change and we are seeing huge growth in the chamber music festival model.
Yes, keep practicing those orchestral excerpts and nail those auditions ... but also ask yourself how much time are you spending exploring these unique festival opportunities?"
What would you say to someone putting together a festival, what are some of the challenges, pitfalls, and rewards?
"Challenges ... it is a ton of work ... you'll find yourself in a day helping move stands, working with somebody who might connect you with a potential funder, making 2-3 programs, talking to the Violin Channel et al ...
Meanwhile you have to perform in the evening .... so you are taking on so many different tasks and changing gears constantly.
But that said, the rewards are the friendships with the people who come to the concerts, the people you make music with ... and all the incredible people you meet along the way."