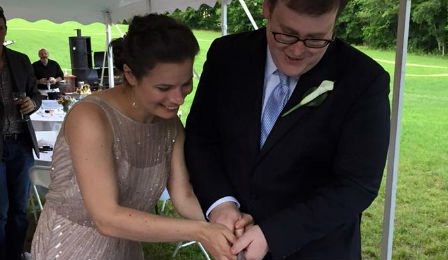 Bulgarian-born violin virtuoso, VC 'Artist' Bella Hristova has married partner, composer David Ludwig in a private ceremony in Vermont, USA on Sunday.
Guests at the the intimate gathering of family and friends included pedagogues Jaime Laredo, Sharon Robinson and Ida Kavafian.
The bride was walked down the aisle by Orion String Quartet violist, Steven Tenenbom.
Bella is a former 1st prize winner at the Michael Hill International Violin Competition and the Young Concert Artists International Auditions - and former recipient of a prestigious Avery Fisher Career Grant.
David currently serves on the compositional faculty at the Curtis Institute of Music, in Philadelphia.
It was announced in April of this year that David has been collectively commissioned by 7 American orchestras to compose a new Concerto, for Violin and Orchestra – to be premiered by Bella in the upcoming 2015/2016 season.
Our hearty congratulations to the musical newly-weds.
PICTURED: CELLIST SHARON ROBINSON, COMPOSER DAVID LUDWIG - AND VIOLINISTS, VC 'ARTIST' BELLA HRISTOVA AND JAIME LAREDO