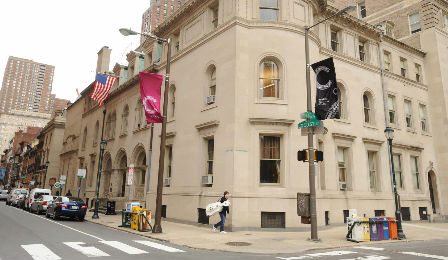 The Curtis Institute of Music, in Philadelphia has today been announced as 'America's Most Selective College' - beating-out educational powerhouses Stanford, Harvard, Yale and Columbia.
Compiled by higher education research site, StartClass and based on 2014-15 US Department of Education data, the Curtis Institute was deemed the 'most selective' college in all of the United States - with an intake of only 40 students and acceptance rate of just 3.4% of total applicants.
Stanford University, Harvard University, Yale University and Columbia University were deemed the next most selective institutions - all with acceptance rates under 7%.
The Juilliard School was deemed the 10th most selective college in the United States - with an intake of 201 students in 2014-15 and an acceptance rate of 8.4% of those who applied.
Famed Curtis Institute of Music alumni include composers: Samuel Barber, Leonard Bernstein and Jennifer Higdon, violin virtuosi Aaron Rosand, Hilary Hahn, Leila Josefowicz, Lara St John, Jennifer Koh and Nadja Salerno-Sonnenberg - and VC 'Artists' Ray Chen, Yu-Chien Benny Tseng, Bella Hristova, Benjamin Beilman, Zeyu Victor Li, Nikki and Timothy Chooi, Josef Spacek, Grace Clifford, Stephen Waarts, Richard Lin, Elena Urioste and Dami Kim.