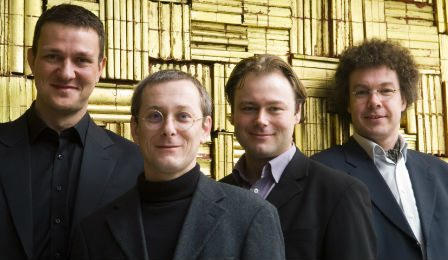 The Leipzig String Quartet have today lashed out, via social media, at a Manhattan courts' claim that 1st violinist, Stefan Arzberger had a transsexual prostitute in his room just hours before an alleged unrelated attack on a New York City hotel guest.
"He never needed to meet prostitutes or transsexuals – that is bullshit", the group have said via Facebook, "... he likes to talk and meet people … learning by talking, all over the world."
It is alleged on the early hours of March 27th, Arzberger gained access to the 64 year old female victim's hotel room before forcefully wrapping his hands around her neck.
The violinist's lawyer has made claim his client was the victim of a drug spiking and robbery, earlier the same evening, and that he has no recollection of the later unrelated assault.
Hotel surveillance video presented in court, and reported in the New York Post, showed that at 3.53am on the night in question, the violinist was seen entering his hotel room accompanied by a known transsexual sex worker – and that approximately 40 minutes later the same person was observed leaving the room alone and in possession of the accused's ipad.
The evidence presented also showed approximately 3 hours later Arzberger was seen walking naked in the hotel hallway and knocking on a number of guest's room doors.
The group have also urged people to 'stay away from media nonsense and look to the whole story."
"Use your own brain … please do so!" they have pleaded.
Arzberger, 42 was last week charged in a Manhattan Supreme Court with attempted murder, assault and strangulation and released on US $100,000 bail.
"He wants to go on with his life and play with the quartet while I'm not going on with my life … I just don't think it's fair," the 64 year old victim told the court.
PREVIOUS