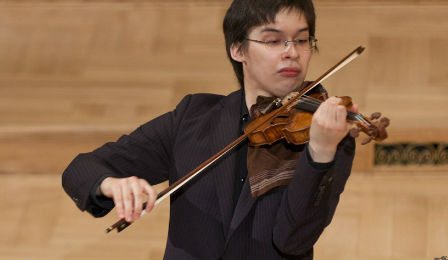 The 5 finalists have today been announced at the Long-Thibaud-Crespin International Violin Competition, in Paris.
The 2014 Finalists are:
Friederike Starkloff (24, Germany), Hildegarde Fesneau (19, France), Aylen Prichin (27, Russia), Naoka Aoki (22,Japan) and Kyung Ji Min (19, South Korea).
The Final will be held on the 20th November – with the 1st prize winner to receive €25 000 (US $31,000) and a number of prestigious solo European engagements.
This year's jury is: Salvatore Accardo (Italy), Alena Baeva (Russia), Eduard Grach (Russia), Joseph Silverstein (United States), Kyoko Takesawa (Japan), Paul Hugues (Great Britain), Mauro Bucarelli (Italy), Alexander Markov (USA), Genevieve Laurenceau (France), Gerard Causse (France) and Phillippe Graffin (France).
The Violin Channel will keep you abreast of the result as the prize winners are being announced.
PICTURED: 2014 Long-Thibaud-Crespin International Violin Competition Finalist, Aylen Prichin from Russia