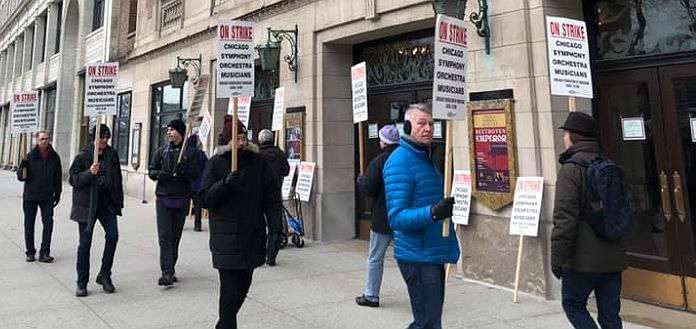 The musicians of the San Francisco Symphony have today announced their plans to join their colleagues from the Chicago Symphony in support on the picket line - should the Chicago ensemble's ongoing labor dispute not be resolved before Tuesday of this week.
The musicians of the Chicago Symphony elected to not return to work earlier this month - after 11 months of failed negotiations to successfully reach a new workplace labor agreement.
It is understood the issues of disagreement between the musicians and Chicago Symphony Orchestra Association board include pension contributions, health care packaging and salary increases.
The two orchestras' brass sections have made plans to perform together in front of Chicago's Symphony Center on March 26th - should the standoff not be setttled.
"People are really upset about Chicago ... " San Francisco Symphony violinist and Musicians Association representative, Mellisa Kleinbart has told local media.
"The CSO is a cultural jewel of the world ... I offer my full support to the musicians of the CSO," conductor Daniel Barenboim has said in recent weeks.
"I am with the musicians … I understand their needs and how they should be treated – and the fact that they are among the best musicians in the world," Music Director Ricardo Muti has said.
The San Francisco Symphony notably also went on strike in 2013 - but the musicians and the administration have since been able to successfully negotiate agreeable terms of employment.