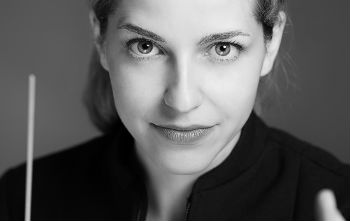 The Dallas Symphony Orchestra has announced conductor Karina Canellakis  as their new Assistant Conductor – beginning 2014.
Ms Canallekis holds a degree in violin and conducting from the Curtis Institute of Music, and a Masters Degree in conducting from the Juilliard School – where she studied with James Ross and New York Philharmonic's Music Director Alan Gilbert.
"Karina represents a new generation of conductors and musicians that understand both artistic excellence and audience engagement," DSO's President Jonathan Martin has said.
In her new position, Ms Canellakis will assist Principal Conductor Maestro Jaap van Zweden in preparing the orchestra for classical subscription concerts – in addition to conducting youth, community and pops programmes.