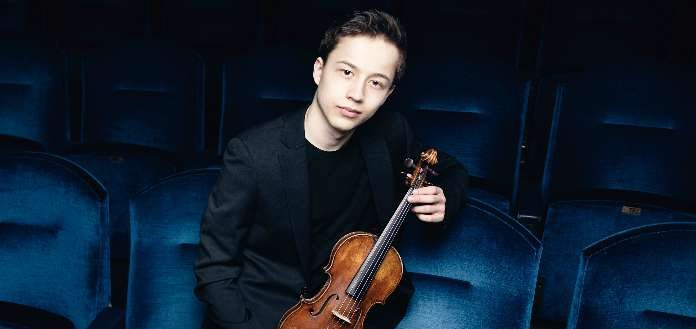 19-year-old Swedish violinist Johan Dalene is quickly establishing an international reputation as one of the most prodigiously talented instrumentalists to emerge in recent years.
A student of Per Enoksson at the Royal College of Music in Stockholm, Johan is former major prize winner at the Menuhin Competition and the Thomas and Evon Cooper International Violin Competition - and in 2019 was awarded 1st prize at the 2019 Carl Nielsen International Violin Competition, in Odense, Denmark.
His recent debuts include solo engagements with the Odense Symphony Orchestra, Malmö Symphony Orchestra, Norrköping Symphony Orchestra, Royal Stockholm Philharmonic Orchestra and the Oslo Philharmonic Orchestra - and he will serve as the Artist-in-Residence with the Swedish Radio Symphony Orchestra for their upcoming 2020/2021 season.
Johan currently performs on a 1736 Stradivarius violin – on generous loan from the Anders Sveaas Allmennyttige Fond.
He is currently under world-wide general management with Enticott Music Management, in London.
VC YOUNG ARTIST JOHAN DALENE & JANINE JANSEN | BACH | DOUBLE CONCERTO
| SWEDISH RADIO SYMPHONY ORCHESTRA | 2020
VC YOUNG ARTIST JOHAN DALENE | BRUCH VIOLIN CONCERTO NO. 1 IN G MINOR | ED GARDNER & BERGEN PHILHARMONIC | 2019
VC YOUNG ARTIST JOHAN DALENE | PIAZZOLLA | FOUR SEASONS OF BUENOS AIRES | LUNDS KAMMARSOLISTER | 2020
VC YOUNG ARTIST JOHAN DALENE, GUNNAR ENBOM, ERIK UUSIJÄRVI, EMMA JOSEFSSON & MATS JANSSON | SCHUBERT | "TROUT" QUINTET IN A MAJOR | 2020
VC YOUNG ARTIST JOHAN DALENE & NIKLAAS VELTMAN | SHOSTAKOVICH | PRELUDE | 2020
https://www.facebook.com/theviolinchannel/videos/398936360893156/
VC YOUNG ARTIST JOHAN DALENE | TCHAIKOVSKY VIOLIN CONCERTO | YARON TRAUB & ODENSE SYMPHONY | 2019 CARL NIELSEN INTERNATIONAL VIOLIN COMPETITION | 1ST PRIZE | 18-YEARS-OLD
https://www.facebook.com/theviolinchannel/videos/2314700035485483/
VC YOUNG ARTIST JOHAN DALENE | MOZART VIOLIN CONCERTO NO. 5 IN A MAJOR | 1ST MVT | ODENSE SYMPHONY | 2019 CARL NIELSEN INTERNATIONAL VIOLIN COMPETITION
https://www.facebook.com/theviolinchannel/videos/311238076240585/
VC YOUNG ARTIST JOHAN DALENE | MOZART VIOLIN CONCERTO NO. 5 IN A MAJOR | 2ND MVT | ODENSE SYMPHONY | 2019 CARL NIELSEN INTERNATIONAL VIOLIN COMPETITION
https://www.facebook.com/theviolinchannel/videos/656154688146473/
VC YOUNG ARTIST JOHAN DALENE | MOZART VIOLIN CONCERTO NO. 5 IN A MAJOR | 3RD MVT | ODENSE SYMPHONY | 2019 CARL NIELSEN INTERNATIONAL VIOLIN COMPETITION
https://www.facebook.com/theviolinchannel/videos/885354641815486/
VC YOUNG ARTIST JOHAN DALENE | NIELSEN VIOLIN CONCERTO | 1ST MVT | YARON TRAUB & ODENSE SYMFONIORKESTER | 2019 CARL NIELSEN INTERNATIONAL VIOLIN COMPETITION
https://www.facebook.com/theviolinchannel/videos/2108621412763368/
VC YOUNG ARTIST JOHAN DALENE | NIELSEN VIOLIN CONCERTO | 2ND MVT | YARON TRAUB & ODENSE SYMFONIORKESTER | 2019 CARL NIELSEN INTERNATIONAL VIOLIN COMPETITION
https://www.facebook.com/theviolinchannel/videos/1014961308713744/
VC YOUNG ARTIST JOHAN DALENE | NIELSEN VIOLIN CONCERTO | 3RD MVT | YARON TRAUB & ODENSE SYMFONIORKESTER | 2019 CARL NIELSEN INTERNATIONAL VIOLIN COMPETITION
https://www.facebook.com/theviolinchannel/videos/389066421678146/
VC YOUNG ARTIST JOHAN DALENE | HINDEMITH | SOLO VIOLIN SONATA | 5TH MVT | 2019 CARL NIELSEN INTERNATIONAL VIOLIN COMPETITION
VC YOUNG ARTIST JOHAN DALENE | RAVEL | TZIGANE | JOACHIM GUSTAFSSON & GOTHENBURG SYMPHONY ORCHESTRA | 2017
VC YOUNG ARTIST JOHAN DALENE | MENDELSSOHN | VIOLIN CONCERTO IN D MINOR | 3RD MVT | LUNDS KAMMARSOLISTER | 2018
https://www.facebook.com/theviolinchannel/videos/2252332791689804/
VC YOUNG ARTIST JOHAN DALENE | YSAŸE | SOLO SONATA NO. 5 | L'AURORE & DANSE RUSTIQUE | 2019 CARL NIELSEN INTERNATIONAL VIOLIN COMPETITION
Violin: 1736 'Spencer Dyke' Stradivarius 
Bows: Vigneron | Lupot
Strings: Evah Pirazzi Gold | Kaplan E-string
Shoulder rest: Wolf Standard Primo
Rosin: Andrea Solo
Case: Riboni
Teacher: Per Enoksson
School: Nordiska Musikgymnasiet, Stockholm
Website: https://www.johandalene.com/index.php
PHOTO CREDIT: NIKOLAJ LUND