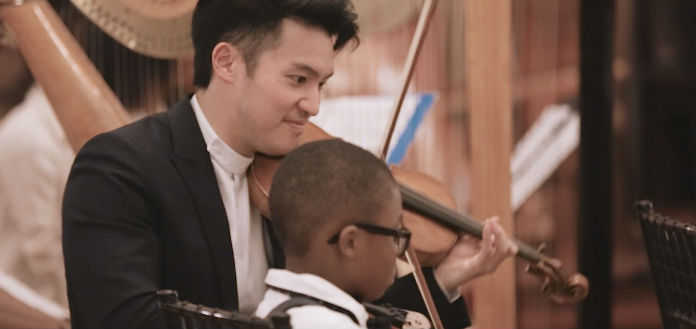 It has been announced today that Australian VC 'Artist' Ray Chen has raised just under US$80,000, for an under-resourced Philadelphian afterschool music program - via his recently launched first 'Musicial Heroes' crowdfunding campaign.
The total, almost four times the original $20,000 target, was achieved via an online Indiegogo campaign and the proceeds of a charity benefit concert held on May 2nd, with The College of Physicians Orchestra, in Philadelphia.
The sum of the first appeal will be given to instrumental teacher, Stanford Thompson for his 'Play on Philly' after-school music program - which currently serves more than 300 underprivileged school-aged students, in the Philadelphia area.
VC 'ARTIST' RAY CHEN | MUSICIAN HEROES | EPISODE 2 | STANFORD THOMPSON AT PLAY ON PHILLY
"It's an incredible achievement and certainly not one that I can take credit for myself … this success is thanks to the countless supporters who stepped forward to support the campaign …" Ray has told The Violin Channel.
"I'm so happy to witness that there are plenty of people who care about the importance of music in our future generation .." the 27 year old virtuoso has said.
"I'm hoping that this will inspire more musical heroes …. and I will continue to work hard to find, recognize, and help support them with future campaigns … " Ray has said.
Bravo, Ray Bae!
PREVIOUS