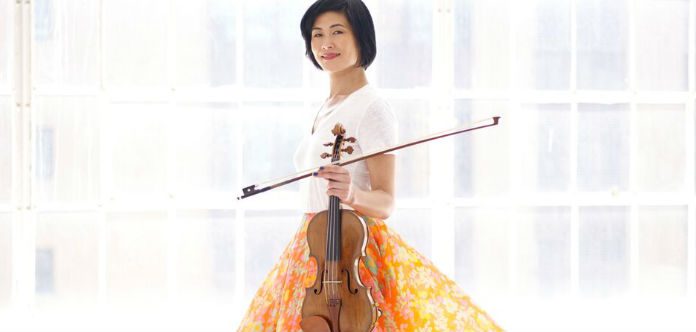 The Violin Channel recently caught up with American violin virtuoso Jennifer Koh - following her world premiere performance of composer Christopher Cerrone's Violin Concerto 'Breaks and Breaks' on the 25th of May at Detroit's Orchestra Hall.
In a VC-exclusive guest blog, Jennifer shares her tips and insights for preparing and premiering a newly-commissioned work:
JENNIFER KOH | CHRISTOPHER CERRONE | CONCERTO FOR VIOLIN AND ORCHESTRA 'BREAKS AND BREAKS' | PETER OUNDJIAN & DETROIT SYMPHONY | 2018 WORLD PREMIERE PERFORMANCE
"The process of studying scores and always pushing myself to learn and study music is the most rewarding part of my life as a musician. For me, there is joy that comes from the discovery process of understanding the meaning behind the notes. The process is transformative - a kind of alchemy that turns notes into music - with the composer's voice and being becoming part of myself. I love this process of immersion when my own body and mind become the vessel of action and embodiment of the music. The magic happens when the composer and composition become a part of my own DNA.
Whether I am preparing to perform a newly discovered work by a composer I have long known and loved, ranging from Bach to Beethoven to Saariaho, or for the premiere of a new work, this alchemy process is the same. When I prepare works by Bach, I study the scores of his Masses and Passions, and not only his works written for violin. I get chills down my spine when I find conscious or subconscious connections between composers' earlier and later works and this always creates a new point of inspiration for me. In the same way, I also study all the works of composers that I commission and not just their violin works.
I first discovered Chris Cerrone through his piano works and his opera, Invisible Cities. I was curious about his compositional voice and then asked him to write a solo violin work for "Shared Madness" and after receiving his piece, Shall I Project A World, I immediately asked him to write a violin concerto for me which will premiere with the Detroit Symphony this weekend! While preparing for this concerto, I also heard new works of his, written for percussion and voice.
The primary difference in preparing an older work which I've known and performed for decades is that I spend a lot of time working to disentangle myself from musical assumptions that can come from influences of previous performances of these works by myself or others. I always return to the score itself and often will work off of clean scores with no fingerings so that I can "clean out" familiarity and habit. I try to be conscious of not simply phrasing out of habit and to never work from a place of previous performance practices. I want to discover my own path and understanding of music, whether it is old or new!!
The process of always seeking a new way to approach the classics is challenging but liberating for me in all repertoire. However, I believe that the choices of fingering and bowing are integral parts of interpretation. It shapes how I can ultimately phrase in the music. I love working on premieres of new works because I am totally unencumbered and free to find my own musical path within the music.
In the end, the process of returning to a work I already know, or learning a new work freshly written for a premiere, is almost identical. There is great excitement in discovering a new work, whether one that is older and unknown, or a new work that is being given its first performance."
-Jennifer
PHOTO CREDIT: JUERGEN FRANK